1967-77 VW Beetle Door Panels, Coupe, Full Set, No Pockets. Smooth Vinyl

Custom Made
Special Order Notice.
Click here to read more.

This is a Special Order Item.
Please note.
This item is not made until you order it.
We pride ourselves in offering:
More Color Choices,
More Fabric Choices,
More Interior Options,
than anyone else in the VW Industry.
Although
we stock more VW Interiors than anyone else
with a variety of colors, material options, vehicles, and years many upholstery sets are still custom made to order Please allow 2-3 weeks for production. Your order will ship once we receive it from the manufacturer.
Product Fits:
1967-77 VW Beetle Coupe.
1971-75 VW Super Beetle Coupe.

Product Details.
Front door panels with OUT pockets.
Door Panels are pre-drilled for door panel clips. The material is lightly padded and have heat seam impressions. Our Door Panel material is an exact match to our Seat Upholstery material, so you can rest assured knowing you will have a great looking interior! Installation can be as easy as inserting your old door panel clips and connecting them with the door panel clip seals on your door.
Door Panel Availability.
- Off-White Vinyl with & w/out pockets,
- Black Vinyl with & w/out pockets,
- Grey Vinyl with & w/out pockets,
are stock for years 1967-77 VW Beetle coupe/sedans. All other colors and materials are made to order. Please allow 2-3 weeks production time for custom made orders.
Additional Items.
Clips and seals are NOT included but can be purchased below.

Door Panel Preparation:
WE HIGHLY RECOMMEND (AND TMI REQUIRES TO KEEP THE LIFETIME WARRANTY ON THE PANELS) installing a "Vapor Barrier" before installing the door panels. ANY WATER DAMAGE TO THE PANEL WILL VOID THEIR WARRANTY.

We use a plastic "painters tarp" cut down to fit, just smaller than panel. Then use a small bead of silicone around the edge of the metal. Run a small bead around the door handle posts, armrest mounts and window crank posts as well. Then place the vapor barrier in place, poking holes for the cranks, etc.

Then install the door panel clip seals (just poke a hole in the plastic tarp before pushing the seal in place) and install your new door panels!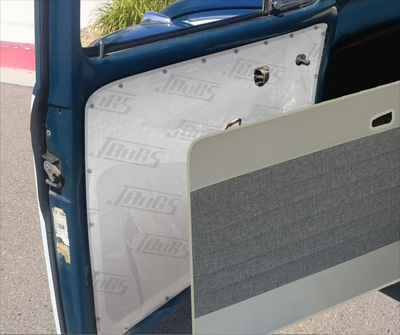 Door Panels Engineered to Last.
It's worth checking to know if your new door panel uses cardboard or Masonite wood panels. Cardboard can bend easily, and may deform, especially when dampened by moisture from rain or snow. Even cleaning sprays working in around the edges can begin the deterioration process. JBUGS only sells Door Panels with Masonite wood backing. Wood is the ultimate in lasting quality. Extremely rigid, durable and unaffected by moisture, they last and look new longer! If you demand an exact match to Factory Embossing ... your only choice is JBUGS. Our door panels are embossed with a tool made from the ORIGINAL Volkswagen door panel!


Color matched interiors.
All interior upholstery products we offer feature EXACT and AUTHENTIC colors, which makes matching OEM colors easy and accurate. Plus, future additions blend in perfectly. Some brands always seem to be a shade different, even when you think you are buying the right color. Mismatched colors look cheap and not very professional. Why settle for "close" when you can have an EXACT match?
Why ENDURATEX Vinyl?
TMI uses the thickest vinyl period! Some of the "other" door panels and seat upholstery are made with a vinyl film. Talk about thin. All TMI Products feature thick, expanded vinyl with cross-linked backing. It looks new longer, holds up to wear, cleans up easy, and holds its original shape.
Our Upholstery is backed by the best Lifetime Warranty on the market. Period!

The Upholstery we carry is the only VW Upholstery on the market good enough to carry a lifetime warranty against manufacturer defects. Buy with confidence knowing quality comes first. JBUGS first priority's are to achieve customer satisfaction and quality of their products.
TMI Products Limited Lifetime Warranty.
TMI PRODUCTS INC. warrants every TMI PRODUCTS INC. manufactured product against defects in materials and workmanship under normal use and service, for as long as the original retail purchaser owns the vehicle the product was installed on. The obligations of TMI PRODUCTS INC. under this warranty are limited, and shall not exceed the cost of non-conforming products. The foregoing Warranty and Conditions shall apply to any repair, reworked or replaced product, part or component supplied by TMI PRODUCTS INC. Further, TMI PRODUCTS INC. shall not be liable for any incident or consequential damages, or loss of use, or other commercial loss, however occasioned. Items not covered include, but are not limited ti chrome plated items/products, installation defects, abuse, misuse, normal wear and tear, natural degradation of cloth fibers due to UV exposure, improper installation and labor for removal and/or installation. This warranty is exclusive and in lieu of all other warranties expressed or implied, including any implied warranty of merchant-ability of fitness.
Phone: 909-272-1996 | Fax: 909-272-1584
Corona CA - M-F 8am-4pm
THE FOLLOWING WILL VOID THIS WARRANTY.
Repairs or alterations not performed by
TMI PRODUCTS INC.
or an authorized
TMI PRODUCTS INC.
agent.
Share your review.
&nbsp &nbsp &nbsp Tweet ! &nbsp &nbsp &nbsp
Related Items
Frequently Bought Together:
Customers who bought 1967-77 VW Beetle Door Panels, Coupe, Full Set, No Pockets. Smooth Vinyl also bought these products:


VW Door Panel Clips Seals / Side Molding Boots. Set of 56 pieces, Made in Germany
$8.00
VW Door Panel Clips. Set of 56 pieces, Made in Germany
$9.00
CARPET, BUG 54-77, BAJA REAR, CUST
$84.95
VW Beetle Premium Carpet Kit, Fits 1973-77, use w/OUT Footrest. Color
$179.95