VW Complete Car Rubber Kit, Cal-Look, Beetle Convertible 1958-1959

---
Free Shipping
Orders over $100 qualify for free shipping.
**Continental U.S. only. Excludes oversized items.
---
Descrip

tion

Fits

Years

Shipping
Return

s

Q&A
Product Description
This 1958-1959 VW Beetle Convertible complete rubber kit features Cal-Look style seals. Cal-Look seals do not have a groove for chrome window molding. The Complete Rubber Kit includes all of the components for a complete door rubber, body rubber and window rubber restoration plus additional seals to complete the rubber restoration process.
Click on images for additional pictures.





Body Rubber Kit Includes:
- Body Rubber Kit.
Hood, Decklid, fenders, turn signals, & more.
- Door Rubber Kit.
Felts channels, scrappers and German door seals.
- Window Seal Kit.
Both front & rear window seals.
All seals in this kit are covered by our Lifetime Warranty.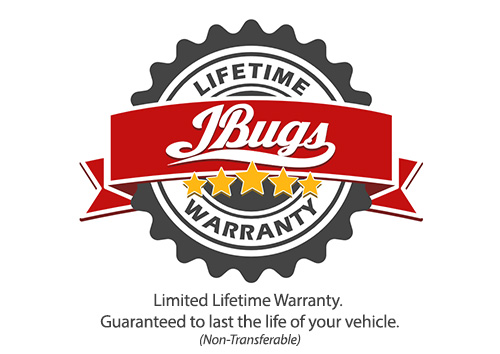 Product Fits:
1958-1959 Convertible Beetles
w/ Cal-Look Style Window Seals
Product Details.
This kit features Cal-Look Windshield and Rear Window Seals. The rest of the body & door seals are the same as our American-Style rubber kit.Cal-Look Seals are aftermarket window seals that do NOT accept original factory window inserts. "Cal-Look" is a style that originated in Southern California in the 1960's. Although style varies between cars and years, Cal-Look beetles are generally lowered and have exterior trim such as window molding, vent wings assemblies, side molding & bumpers removed. Cal-Look window seals are popular because they are less-expensive, and easier to install.

Jbugs Complete Car Rubber Kits are designed for a hassle-free body restoration. Our Complete Exterior Car Rubber kits include all the exterior rubber for your car! Save time and money by purchasing a kit.Our Rubber Kits contains the finest replacement seals available and are LIFETIME GUARANTEED.

This kit also includes our Exterior DVD to instruct you on how to put it all together. Our video is 1 hour and 15 minutes in length and covers all the basics.
Items Pictured that are Included:
German Hood Seal
Turn Signal Seals
Headlight Seals
Hood Handle Seal
Fender Beading -all 4 fenders
Door Panel Clip Seals
Door Hinge Oil Plugs
Hinge Screw Hole Covers
Door Checkrod Seals
Door Checkrod Stops
Door Checkrod Seals
Door Handle Seals
Bumper Seals -uppers/lowers
Decklid Handle Seals
Tail Light Seals
License Light Seal
Decklid Seal
Window Felt Chanels
Brazilian Outside Scrappers
Vent Wing Flaps
Vent Wing Seals
German Door Seals
Cal-Look Style Window Seals for Windshield & Rear Window
Items not Pictured that are Included:
Exterior Restoration Video
License Lens Seal
Horn Wire Boots
Speedo Cable to Body Seal
Speedo Cable thru Drum Boot
Tail Light Wire thru Body Seals
Wiper Shaft Grommets
Wiper Nozzle with seal
Clutch Tube Boot
Rear Apron Plugs
Glove Box Stops
Battery Cable to Starter Grommet
Heater Cable Tube Sleeves
Rear Engine Seal
Firewall Seal
Brake Line to Body Seals
Fuel Line thru chassis Collar
California Prop 65 Warning:
Warning:
Cancer and Reproductive Harm -
www.P65Warnings.ca.gov
Compatibility
Please Note: The information listed below is for stock, unmodified VW's manufactured for sale in the US. VW's are commonly modified and very often parts from another year VW may have been installed on your car. California Pacific JBugs is not responsible for any errors if your car has been modified in any way.
VW Beetle
---
Standard Beetle Convertible
1958 VW
Standard
Beetle Convertible
1959 VW
Standard
Beetle Convertible
Shipping
Returns
These parts help you finish the job:
Recently Viewed Items: