VW Front & Rear 1954-67 Beetle Triple Chrome Blade Bumpers

Part Number: 113707111A-311A
---
Oversized Item Shipping Cost:
Select the state below to calculate the cost of freight on this oversized item.
---
Descrip

tion

Fits

Years

Shipping
Return

s

Q&A
Product Description
Save money on shipping by ordering a set of bumpers. The blade style bumpers are triple chrome plated for good looks and a durable finish that will last years if kept clean and waxed occasionally. The bumpers fit the front and rear of 1954 through 1967 Beetles.
Please Note:
Due to limited supply inventory variances occur occasionally. This Bumper may come with 2 or 3 mounting holes depending on the manufacturer. If you looking for a particular style (2 or 3 holes), please call and we will check stock before you place your order. The third hole can be covered with a standard mounting bolt & nut if you are not planning on installing Bumper-Guards PN#3173.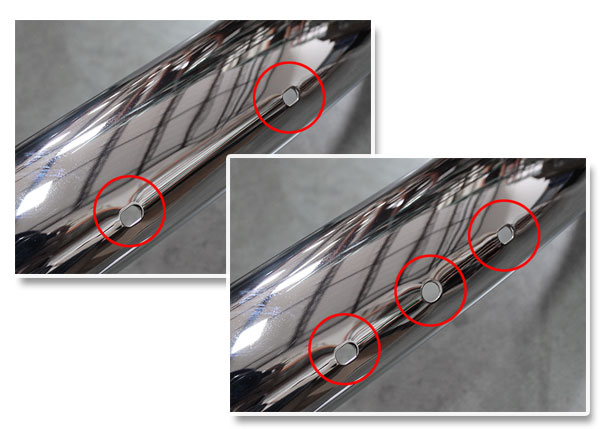 California Prop 65 Warning:
Warning:
Cancer and Reproductive Harm -
www.P65Warnings.ca.gov
Compatibility
Please Note:
The information listed below is for stock, unmodified VW's manufactured for sale in the US. VW's are commonly modified and very often parts from another year VW may have been installed on your car. California Pacific JBugs is not responsible for any errors if your car has been modified in any way.
VW Beetle
VW Beetle Sedan
1954 VW Beetle Sedan
1955 VW Beetle Sedan
1956 VW Beetle Sedan
1957 VW Beetle Sedan
1958 VW Beetle Sedan
1959 VW Beetle Sedan
1960 VW Beetle Sedan
1961 VW Beetle Sedan
1962 VW Beetle Sedan
1963 VW Beetle Sedan
1964 VW Beetle Sedan
1965 VW Beetle Sedan
1966 VW Beetle Sedan
1967 VW Beetle Sedan
VW Beetle Ragtop
1954 VW Beetle Ragtop
1955 VW Beetle Ragtop
1956 VW Beetle Ragtop
1957 VW Beetle Ragtop
1958 VW Beetle Ragtop
1959 VW Beetle Ragtop
1960 VW Beetle Ragtop
1961 VW Beetle Ragtop
1962 VW Beetle Ragtop
1963 VW Beetle Ragtop
VW Beetle Sunroof
1964 VW Beetle Sunroof
1965 VW Beetle Sunroof
1966 VW Beetle Sunroof
1967 VW Beetle Sunroof
VW Beetle Convertible
1954 VW Beetle Convertible
1955 VW Beetle Convertible
1956 VW Beetle Convertible
1957 VW Beetle Convertible
1958 VW Beetle Convertible
1959 VW Beetle Convertible
1960 VW Beetle Convertible
1961 VW Beetle Convertible
1962 VW Beetle Convertible
1963 VW Beetle Convertible
1964 VW Beetle Convertible
1965 VW Beetle Convertible
1966 VW Beetle Convertible
1967 VW Beetle Convertible
Shipping
Returns
These parts help you finish the job:
Recently Viewed Items: