Federal Fermoza FD1 VW Tire, 165/45R15, Each
Part Number: 165-45R-15
---
Oversized Item Shipping Cost:
Select the state below to calculate the cost of freight on this oversized item.
Prefer to order by phone? Call us at 1-800-231-1784. Our sales representatives are available from 7-5pm Monday-Friday PST and will be happy to assist you with any questions, concerns or placing an order.
---
Descrip

tion

Shipping
Return

s
Product Description
This Federal Fermoza FD1 165/45R15 tire is an alternative to those skinny 135s and 145s which offer virtually no steering feel and even less stopping power. This is a shorter, wider tire that features superb steering response, stylish tread pattern, excellent water evacuation, maximum tire life, quiet and comfortable ride characteristics, all at an afforable price. This performance tire is perfect for the quality conscious buyer who wants and affordable tire with excellent life.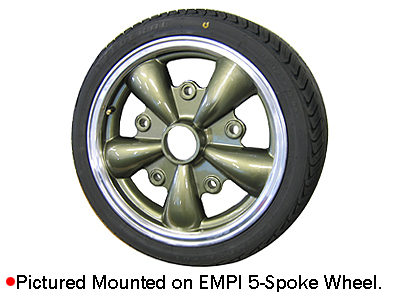 Mounted on a 15x5.5" wheel the tire (unloaded)

Measures approximately 20.75" tall

Offers roughly 4.5 to 5" of tread contact (loaded depending on tire pressure)
Shipping
Returns