VW Front Speaker Kick Panels, Pair, Beetle Sedans

---
Shipping
Spend $100 more for Free Shipping.
**Continental U.S. only. Excludes oversized items.
---
Descrip

tion

Fits

Years

Shipping
Return

s

Q&A
Product Description
Our VW Front Speaker Kick Panels for all Beetle sedans are made of thick, heavy-duty fiberglass to resist vibration and noise. These high-quality kick panels are the best on the market!
Front Speaker Kick Panels
Front Speaker Kick Panels, Pair, Black Heavy Duty Fiberglass
Fits All Standard Bug Sedans, Sun-Roofs, & Rag-Tops. Hardware Not Included.
Add Some Sound to Your Ride!
Our Front Speaker Kick Panels are made of heavy-duty fiberglass
to resist vibration noise associated with cheap plastic panels.
The thick fiberglass aids in securely mounting the speakers to the
kick panel as well as fastening them to the front side kick panel area
of the car.
The Speaker Kick Panels create a cavity between the front side interior
areas of the car and the Speaker Kick Panels to allow the mounting of the
speakers without having to cut into the metal area of the car.
The Speaker Kick Panels can accept 5 1/4 inch round speakers as well as many
6 inch speakers with shallow magnets. The panels direct the music slightly
upward and inward in the car to provide optimum sound quality. The panels are
finished in black so that they can be placed either under or on top of an existing
carpet kit.
The Speaker Kick Panels will NOT impede any foot movement inside. We do
NOT recommend putting any speakers in door panels. In addition to getting
the speakers wet, the door panels and clips do not have sufficient strength
to hold today's heavy magnet speakers.
We put these Speaker Kick Panels in all of our own cars.(GSV)
SPEAKER PANELS
Fits up to 7" diameter speakers (or 5 ½" with 1" tweeters, etc.) Depending on which car you have, there will be 3" to 4" of space behind the Speaker Panel, 2" to 3" on convertibles.
Really Easy Instructions
You'll need:
40 grit sandpaper
Jigsaw with a fine blade
Electric drill with 1/8" bit
Phillips screwdriver (or drill with phillips screwdriver bit)
Template for your speaker (usually comes with your system)
Pieces of cardboard to practice on
8 Sheet metal screws.
1) Decide whether you will mount Speaker Panels over or under existing or new carpet, then;
2) Pre-fit the Speaker Panel up against your kick panel area above the heater channel. Some trimming may be required simply by using sandpaper. We recommend putting insulation, carpet or some type of pad behind the speaker, up against the metal kick panel area of your car. This makes your system "sound" better.
3) Once you are satisfied with the fitting of the speaker panel and its ready to install, you can now insert your speakers:
First, cut out the hole using the template, or practice on cardboard. If you drill the hole too big, then you'll have to buy another set and start over again. It is best to cut out the hole with the jigsaw, smaller than the template shows, them use sandpaper to make your speaker fit perfectly.
Mount your speakers, tweeter, etc. into the Speaker Panel.
4) Now, drill 4 holes, one at each comer using a drill with 1/8" bit. Hold the panel exactly where you previously pre-fit, and drill thru the panel and the metal kick panel of your car. Then screw the 4 screws into both, with a screwdriver (or drill with phillips screwdriver bit). Note: Bonding or attaching the speaker panel to your kick panel area without screws, will not allow access to your speaker, if you ever need to get to it. Carpet over if you choose.
Remember, if you have any questions, call us. We are happy to assist you!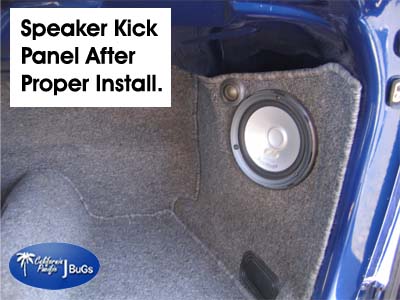 SPEAKERS NOT INCLUDED.
California Prop 65 Warning:
Warning:
Cancer and Reproductive Harm -
www.P65Warnings.ca.gov
Compatibility
Please Note:
The information listed below is for stock, unmodified VW's manufactured for sale in the US. VW's are commonly modified and very often parts from another year VW may have been installed on your car. California Pacific JBugs is not responsible for any errors if your car has been modified in any way.
VW Beetle
VW Beetle Sedan
1954 VW Beetle Sedan
1955 VW Beetle Sedan
1956 VW Beetle Sedan
1957 VW Beetle Sedan
1958 VW Beetle Sedan
1959 VW Beetle Sedan
1960 VW Beetle Sedan
1961 VW Beetle Sedan
1962 VW Beetle Sedan
1963 VW Beetle Sedan
1964 VW Beetle Sedan
1965 VW Beetle Sedan
1966 VW Beetle Sedan
1967 VW Beetle Sedan
1968 VW Beetle Sedan
1969 VW Beetle Sedan
1970 VW Beetle Sedan
1971 VW Beetle Sedan
1972 VW Beetle Sedan
1973 VW Beetle Sedan
1974 VW Beetle Sedan
1975 VW Beetle Sedan
1976 VW Beetle Sedan
1977 VW Beetle Sedan
VW Beetle Ragtop
1954 VW Beetle Ragtop
1955 VW Beetle Ragtop
1956 VW Beetle Ragtop
1957 VW Beetle Ragtop
1958 VW Beetle Ragtop
1959 VW Beetle Ragtop
1960 VW Beetle Ragtop
1961 VW Beetle Ragtop
1962 VW Beetle Ragtop
1963 VW Beetle Ragtop
VW Beetle Sunroof
1964 VW Beetle Sunroof
1965 VW Beetle Sunroof
1966 VW Beetle Sunroof
1967 VW Beetle Sunroof
1968 VW Beetle Sunroof
1969 VW Beetle Sunroof
1970 VW Beetle Sunroof
1971 VW Beetle Sunroof
1972 VW Beetle Sunroof
1973 VW Beetle Sunroof
1974 VW Beetle Sunroof
1975 VW Beetle Sunroof
1976 VW Beetle Sunroof
1977 VW Beetle Sunroof
Shipping
Returns
These parts help you finish the job:
Recently Viewed Items: