VW Cal Look Front Windshield Seal, Beetle Sedan 1965-1977, Super Beetle Sedan 1971-1972

---
Shipping
Spend $100 more for Free Shipping.
**Continental U.S. only. Excludes oversized items.
---
Descrip

tion

Fits

Years

Videos

Tech

Tips
Shipping
Return

s

Q&A
Product Description
This high quality VW Beetle Cal Look Front Windshield seal fits 1965-77 Beetle Sedan and 1971-72 Super Beetle Sedan and comes with a lifetime guarantee. Cal Look Window seals are all black and do not have a molding groove. These are the finest quality seals on the market and will fit your VW perfectly. Our Exterior Restoration DVD will help you install your seals just like the pros.
VW Cal Look Style Windshield Seal.
Plain Black, no groove for receiveing trim.
Cal Look Style
Windshield Seal.

Fits:
Windshield Bug Sedan & Sun-Roof 1965-77
Windshield Super Beetle Sedan & Sun-Roof 1971-72
Product Details:
Cal-Look Seals do NOT have the groove to accept factory chrome inserts. They are solid plain black seals. Cal-Look seals are popular with people who opt-out of re applying the chrome window trim.
Our Cal-Look Window Seals are made in the USA to our specifications. We have extended the outer lip of theseal to cover the corners and prevent the dreaded "curling" you see on other seals.Our Cal Look Style Window Rubber Seals utilize the finest materials available and are proudly made in the USA. These Seals are the Best Fitting and Longest Lasting Seals Made Today.The rubber is Lifetime Guaranteed.
Note:
This seal doubles for use on Front Windshield or Rear Window depending on the year of your car.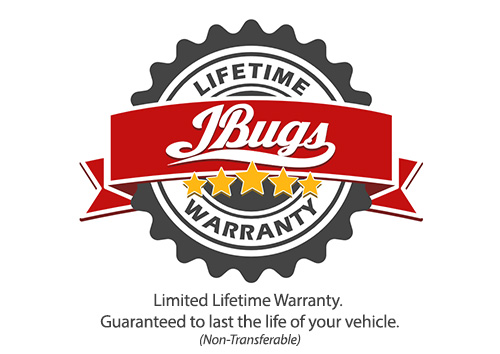 ALT: ()
California Prop 65 Warning:
Warning:
Cancer and Reproductive Harm -
www.P65Warnings.ca.gov
Compatibility
Please Note:
The information listed below is for stock, unmodified VW's manufactured for sale in the US. VW's are commonly modified and very often parts from another year VW may have been installed on your car. California Pacific JBugs is not responsible for any errors if your car has been modified in any way.
VW Beetle
VW Beetle Sedan
1965 VW Beetle Sedan
1966 VW Beetle Sedan
1967 VW Beetle Sedan
1968 VW Beetle Sedan
1969 VW Beetle Sedan
1970 VW Beetle Sedan
1971 VW Beetle Sedan
1972 VW Beetle Sedan
1973 VW Beetle Sedan
1974 VW Beetle Sedan
1975 VW Beetle Sedan
1976 VW Beetle Sedan
1977 VW Beetle Sedan
VW Beetle Sunroof
1965 VW Beetle Sunroof
1966 VW Beetle Sunroof
1967 VW Beetle Sunroof
1968 VW Beetle Sunroof
1969 VW Beetle Sunroof
1970 VW Beetle Sunroof
1971 VW Beetle Sunroof
1972 VW Beetle Sunroof
1973 VW Beetle Sunroof
1974 VW Beetle Sunroof
1975 VW Beetle Sunroof
1976 VW Beetle Sunroof
1977 VW Beetle Sunroof
VW Super Beetle
VW Super Beetle Sedan
1971 VW Super Beetle Sedan
1972 VW Super Beetle Sedan
1973 VW Super Beetle Sedan
1974 VW Super Beetle Sedan
1975 VW Super Beetle Sedan
Helpful Hints

When installing any extruded seal (a seal that has a glued or vulcanized seam) it is highly recommended to put the seam at the bottom center of the window. If the seam is installed in a corner the seam can split because of the seal expanding and contracting with temperature changes. If the seal can't be installed at the bottom center, make sure to put it on a straight edge of the window. Failure to do so will void the warranty on the seal.
Shipping
Returns
These parts help you finish the job:
Recently Viewed Items: