VW Right Door Seal, German Made, Beetle Sedan 1950-1966

Part Number: 111831722AGR
---
Shipping
Spend $100 more for Free Shipping.
**Continental U.S. only. Excludes oversized items.
---
Descrip

tion

Fits

Years

Shipping
Return

s

Q&A
Product Description
This OEM German Made VW right door seal is compatible with the 1950-1966 Beetle Sedan. This is a single passenger's side door seal. This German made door rubber will seal the side door to the body of the car. This is the finest made door seal available for the 1950-1966 Beetle. This seal features a lifetime warranty.
Please Note:
*The OEM German Seals are the highest quality rubber seals available. These seals are actually black, but will appear gray-ish when brand new. This is due to the new seals being covered in talcum powder to prevent them from sticking to the mold when in production.
Installation Tip:
Insert the 3 corners of the seal in the door to start the installation and work your way to the center of the 3 sections. Otherwise, the seal will seem to be about 6 inches too long.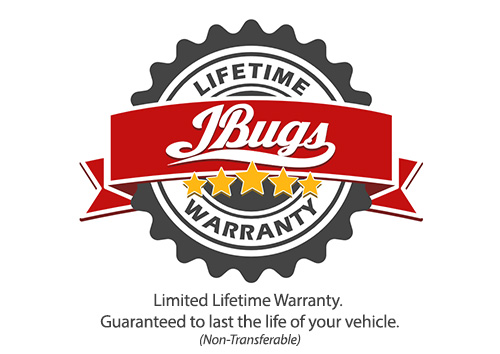 California Prop 65 Warning:
Warning:
Cancer and Reproductive Harm -
www.P65Warnings.ca.gov
Compatibility
Please Note:
The information listed below is for stock, unmodified VW's manufactured for sale in the US. VW's are commonly modified and very often parts from another year VW may have been installed on your car. California Pacific JBugs is not responsible for any errors if your car has been modified in any way.
VW Beetle
VW Beetle Sedan
1954 VW Beetle Sedan
1955 VW Beetle Sedan
1956 VW Beetle Sedan
1957 VW Beetle Sedan
1958 VW Beetle Sedan
1959 VW Beetle Sedan
1960 VW Beetle Sedan
1961 VW Beetle Sedan
1962 VW Beetle Sedan
1963 VW Beetle Sedan
1964 VW Beetle Sedan
1965 VW Beetle Sedan
1966 VW Beetle Sedan
VW Beetle Ragtop
1954 VW Beetle Ragtop
1955 VW Beetle Ragtop
1956 VW Beetle Ragtop
1957 VW Beetle Ragtop
1958 VW Beetle Ragtop
1959 VW Beetle Ragtop
1960 VW Beetle Ragtop
1961 VW Beetle Ragtop
1962 VW Beetle Ragtop
1963 VW Beetle Ragtop
VW Beetle Sunroof
1964 VW Beetle Sunroof
1965 VW Beetle Sunroof
1966 VW Beetle Sunroof
Shipping
Returns
These parts help you finish the job:
Recently Viewed Items: