VW Front & Rear 1954-67 Beetle Triple Chrome Complete Blade Bumper Kit

Part Number: 113707111A-311A-KIT
---
Oversized Item Shipping Cost:
Select the state below to calculate the cost of freight on this oversized item.
---
Descrip

tion

Fits

Years

Shipping
Return

s

Q&A
Product Description
If you're looking to replace or install the front and rear blade bumpers on your 1954 through 1967 Beetle and need all the parts, look no further. Our VW Front and Rear Triple Chrome Plated Blade Bumper Kit comes with the Front and Rear, Lower Bumper Brackets, four pairs of Bumper Spacers, Lower Bumper Brackets and Seals as well as all of the hardware needed to bolt the bumpers to the brackets and the brackets to the cars. You provide a Beetle, we've covered everything else to install new bumpers on it! If you want to add bumper guards or "bumperettes" for the front or rear bumpers just click the options above. You can also add bumper over-rider hole plugs (if your holes aren't welded up) to cover the holes in the front apron and rear fenders.
Please Note:
Due to limited supply inventory variances occur occasionally. This Bumper may come with 2 or 3 mounting holes depending on the manufacturer. If you looking for a particular style (2 or 3 holes), please call and we will check stock before you place your order. The third hole can be covered with a standard mounting bolt & nut if you are not planning on installing Bumper-Guards PN#3173.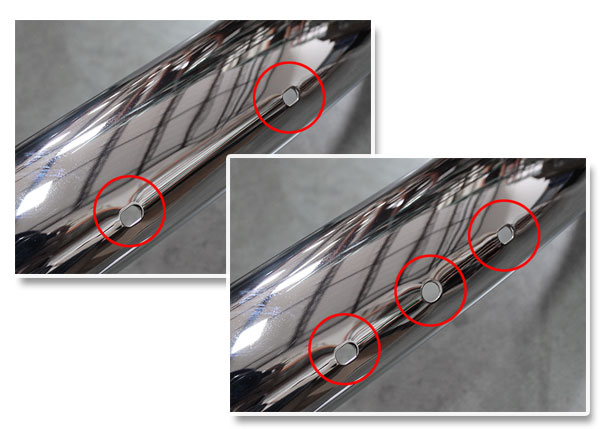 California Prop 65 Warning:
Warning:
Cancer and Reproductive Harm -
www.P65Warnings.ca.gov
Compatibility
Please Note: The information listed below is for stock, unmodified VW's manufactured for sale in the US. VW's are commonly modified and very often parts from another year VW may have been installed on your car. California Pacific JBugs is not responsible for any errors if your car has been modified in any way.
VW Beetle
1954 VW
Standard
Beetle Hardtop
1955 VW
Standard
Beetle Hardtop
1956 VW
Standard
Beetle Hardtop
1957 VW
Standard
Beetle Hardtop
1958 VW
Standard
Beetle Hardtop
1959 VW
Standard
Beetle Hardtop
1960 VW
Standard
Beetle Hardtop
1961 VW
Standard
Beetle Hardtop
1962 VW
Standard
Beetle Hardtop
1963 VW
Standard
Beetle Hardtop
1964 VW
Standard
Beetle Hardtop
1965 VW
Standard
Beetle Hardtop
1966 VW
Standard
Beetle Hardtop
1967 VW
Standard
Beetle Hardtop
---
Standard Beetle Ragtop
1954 VW
Standard
Beetle Sliding Ragtop
1955 VW
Standard
Beetle Sliding Ragtop
1956 VW
Standard
Beetle Sliding Ragtop
1957 VW
Standard
Beetle Sliding Ragtop
1958 VW
Standard
Beetle Sliding Ragtop
1959 VW
Standard
Beetle Sliding Ragtop
1960 VW
Standard
Beetle Sliding Ragtop
1961 VW
Standard
Beetle Sliding Ragtop
1962 VW
Standard
Beetle Sliding Ragtop
1963 VW
Standard
Beetle Sliding Ragtop
---
Standard Beetle Sunroof
1964 VW
Standard
Beetle Metal Sunroof
1965 VW
Standard
Beetle Metal Sunroof
1966 VW
Standard
Beetle Metal Sunroof
1967 VW
Standard
Beetle Metal Sunroof
---
Standard Beetle Convertible
1954 VW
Standard
Beetle Convertible
1955 VW
Standard
Beetle Convertible
1956 VW
Standard
Beetle Convertible
1957 VW
Standard
Beetle Convertible
1958 VW
Standard
Beetle Convertible
1959 VW
Standard
Beetle Convertible
1960 VW
Standard
Beetle Convertible
1961 VW
Standard
Beetle Convertible
1962 VW
Standard
Beetle Convertible
1963 VW
Standard
Beetle Convertible
1964 VW
Standard
Beetle Convertible
1965 VW
Standard
Beetle Convertible
1966 VW
Standard
Beetle Convertible
1967 VW
Standard
Beetle Convertible
Shipping
Returns
You might be interested in the following:
Recently Viewed Items: