VW Seat Upholstery, Full Set, 2-Tone with 12 Inch Insert-Select Colors, Beetle 1954-1955











Part Number: 44-1121-Custom
---
---
Free Shipping
Orders over $100 qualify for free shipping.
**Continental U.S. only. Excludes oversized items.
---
Descrip

tion

Fits

Years

Tech

Tips
Shipping
Return

s

Q&A
Product Description
Our 1954-1955 VW Beetle Full Set Seat Upholstery Kit includes Front and Rear Seat Upholstery in custom 2-Tone with 12 Inch Insert. The 12 Inch Insert is a 12 inch wide vertical stripe on the seat and backrest surfaces. Choose one upholstery for the 12 Inch Insert and a second upholstery for the outer areas. You can mix and match materials and colors to create a custom look. Includes vinyl piping and original padded heat-seam pattern. Choose from Basketweave Vinyl, Squareweave Vinyl, Smooth Vinyl, Velour, and Tweed, all in a huge variety of colors.
Colors Available:
Only Black, Off-White, and Grey Basketweave Seat Upholstery is stock.

We hope you understand there are over a million different combinations,(when you consider options such as color, material, year vehicles and custom insert options). We thank you for your patience as your Seat Upholstery is made just for you.

Product Fits:
1954-55 VW Beetle Ragtop
1954-55 VW Beetle Hardtop
Product Details:
Look no further for custom upholstery that reflects your style and vehicle. 12 Inch Insert seat upholstery kits are made with a 12 Inch wide vertical stripe insert in your choice of color and material.

You can mix & match colors or completely different materials such as smooth vinyl with a tweed or velour insert for a custom look. All upholstery is made with the finest quality materials, completely finished (no sewing required), and has extruded vinyl piping and original padded heat-seam patterns for the year of the car.

All piping is vinyl only. If you select cloth sides we will find the closest matching vinyl color to compliment cloth material selected. For example: charcoal tweed seats will have charcoal vinyl piping.

All 12" Insert Seat Upholstery kits are special order items.
Try it out!
Want to play around with different seat color combinations before placing an order?
Click here.
Need Seat padding?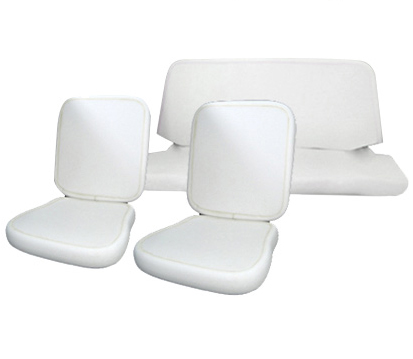 Seat Pads are not included with upholstery. Do not forget to order our replacement seat pad kit, and burlap to achieve professional-looking installation results.
(Click here to purchase separately).
California Prop 65 Warning:
Warning:
Cancer and Reproductive Harm -
www.P65Warnings.ca.gov
Compatibility
Please Note: The information listed below is for stock, unmodified VW's manufactured for sale in the US. VW's are commonly modified and very often parts from another year VW may have been installed on your car. California Pacific JBugs is not responsible for any errors if your car has been modified in any way.
VW Beetle
1954 VW
Standard
Beetle Hardtop
1955 VW
Standard
Beetle Hardtop
---
Standard Beetle Ragtop
1954 VW
Standard
Beetle Sliding Ragtop
1955 VW
Standard
Beetle Sliding Ragtop
Helpful Hints
1954-67 VW Beetle Low-Back Seat Frames look very similar, share the same seat rails, and are often switched between cars when replacement seat frames are needed. The Seat Upholstery, however, installs differently depending on seat frame year. We recommend checking if your seat frames are original for your car before ordering VW Seat Upholstery.

1954-64 VW Seat Backrest Frames have a bottom bar with a slit. Seat upholstery reinforcement strip tucks in to this slit. 1954-64 VW Seat Upholstery piping runs from left side to right side.

1965-67 VW Seat Backrest Frames
have a bar with spikes that puncture through upholstery. Spikes are then bent over upholstery edge. 1965-67 VW Seat Upholstery piping runs from front to back of seat backrest.
Shipping
Returns
More About TMI Upholstery.
Installation:
Upholstery Specs:
TMI Warranty:
You might be interested in the following:
Recently Viewed Items: