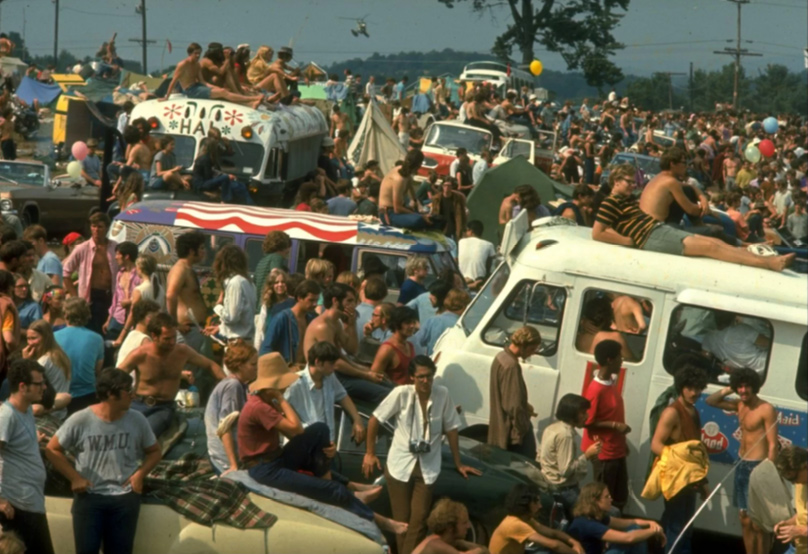 50 Years Ago, Society Was Changed Forever
A festival of peace, love, and music captured the attention of the world, and if there's one vehicle that made it all possible, it's the Volkswagen Bus!
That rainy weekend on Max Yasgur's farm is now thought of as the defining moment of the Generation of Love, but Woodstock couldn't have been possible without the people who braved cross-country journeys and days-long traffic jams through torrential downpours.
Their vehicle of choice? Just take a look: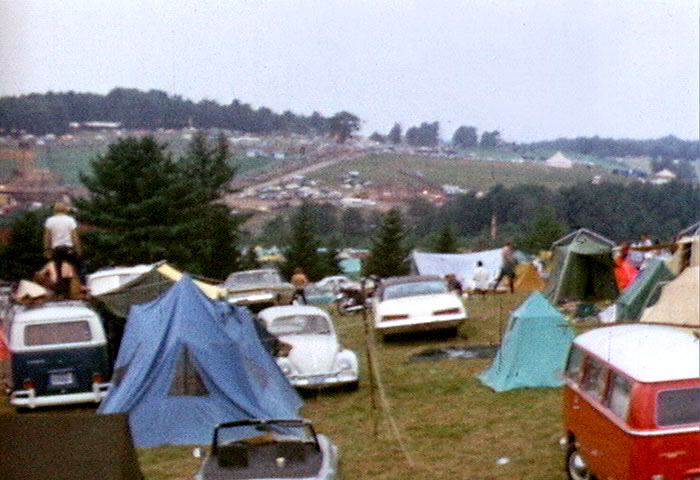 The days when the split screen Transporter was an affordable, economical, and reliable way to get around are long gone, and it's getting harder to remember the time when this was their main appeal.
Compared to their contemporaries, these friendly-looking buses were easy to work on, comfortable enough to live out of, and could be found for cheap!
On top of being practical, the Bus's unusual, friendly styling appealed to a generation that wanted to shake up American culture. Among disenfranchised or homeless people, beatniks, surfers, and people who voluntarily chose a nomadic lifestyle a decade before Woodstock, the Volkswagen Transporter represented an ideal of freedom and social nonconformity that no other vehicle has ever captured.
The Transporter's dual appeals of practicality and quirky aesthetics made these vehicles inseparable from the bohemian lifestyle of the Hippies well before Woodstock was even a dream!
Dr. Bob Hieronimus & Woodstock's "Light" Bus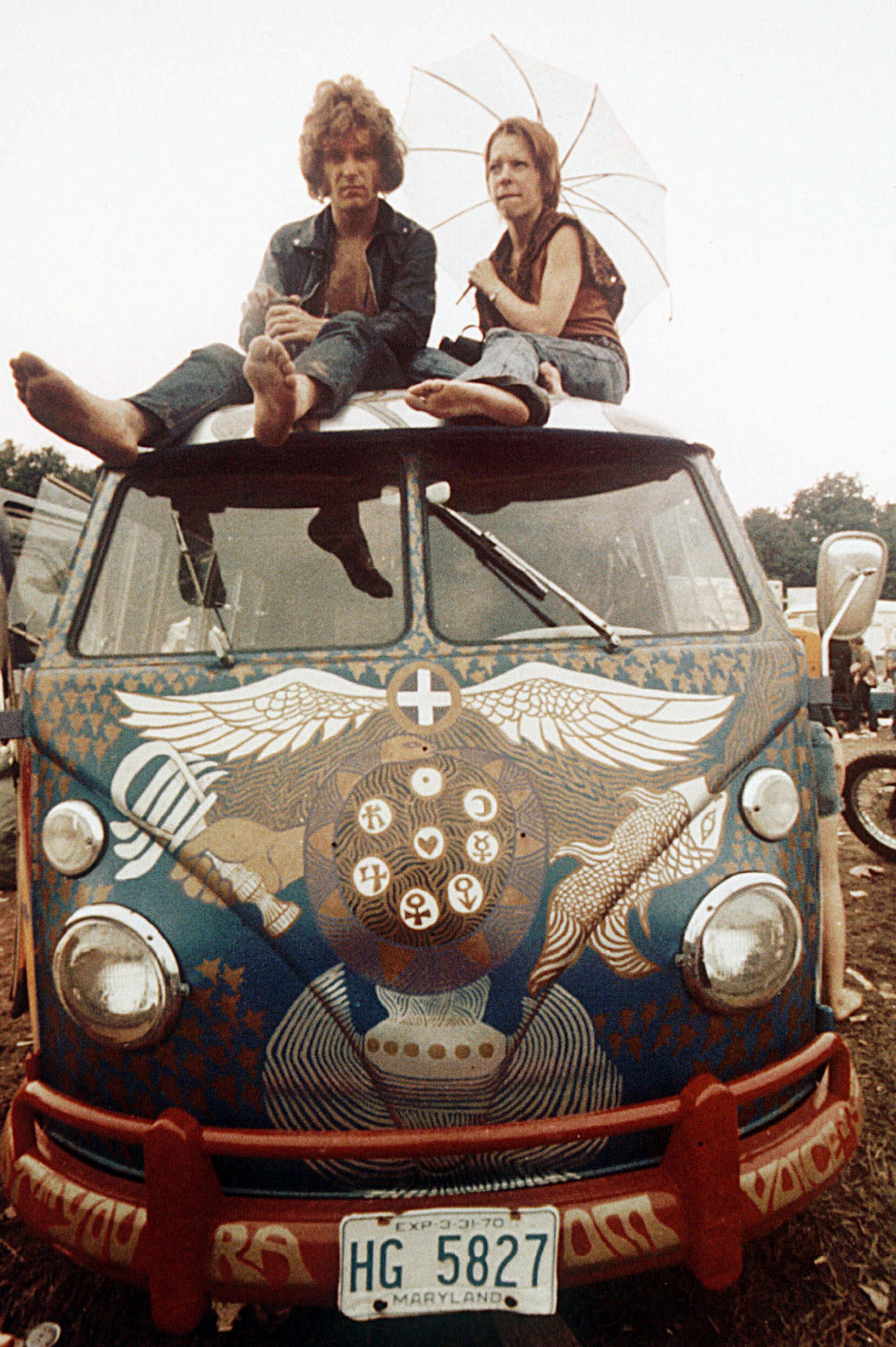 By the time Dr. Bob Hieronimus painted his friend's 1963 Microbus for Baltimore-based rock group LIGHT, the Transporter had already well earned its reputation as the iconic Hippie Van.
Doctor Bob's work had already inspired students at Johns Hopkins University with the 2,700 square foot mural "Apocalypse," and the message of "Light" holds the same importance now as it did in the summer of 1969. Covered on all sides by esoteric and mystical symbols, Dr. Bob intended the LIGHT Bus to be a rolling billboard for the shift in consciousness that could heal a fractured society. From the artist's site, lightvwbus.com,
"Everything from the Egyptian Sphinx to the Lotus Flowers symbolizing the expansion of the soul is interlocked in intricate waves of vibrating energy to show we are all one and connected with the cosmic creator on a vibrational level."


Considering the "LIGHT" Bus was conceived as a magical talisman that could radiate the positive energy needed to change the world, maybe it's more than serendipity that it wound up being an icon of Woodstock itself! From Rolling Stone and Associated Press photographs to the liner of the official Woodstock '69 album, Dr. Bob's "LIGHT" serves as a symbol of the spirit and energy of the times just as much today as it did fifty years ago.
How appropriate is it that "LIGHT" is now better known as "The Woodstock Bus!"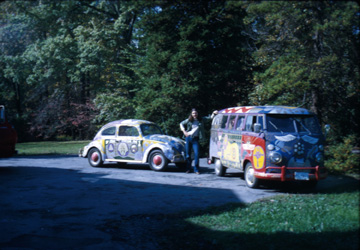 Rebuilding the Bus
Three years ago in 2016, Dr. Bob and Canadian documentarian John Wesley Chisholm set out to recover the original van. Despite their best effort, a six-month search came up empty, and unfortunately it seems the original "LIGHT" Bus is lost to time.
But while magical trinkets may be lost and no material thing truly lasts forever, the ideas they represent can never really die. This was proven when a successful Kickstarter campaign and six weeks of hard work from Dr. Bob as well as talented artists Justin C Williams, Lindsey Sam Zuskin, Jessica Rassp, Rodger Roundy, and Lily Bleser, ended up re-creating the "LIGHT" Bus down to the smallest detail!
By February 2019, "LIGHT" was back on the road pumping out a whole fresh new set of vibes as it travels back to Woodstock for its 50th anniversary. As the Volkswagen Transporter escaped the trappings of its utilitarian past, it became even more of a talisman itself, a representation of a lifestyle that perhaps holds more desirability today than it did fifty years ago!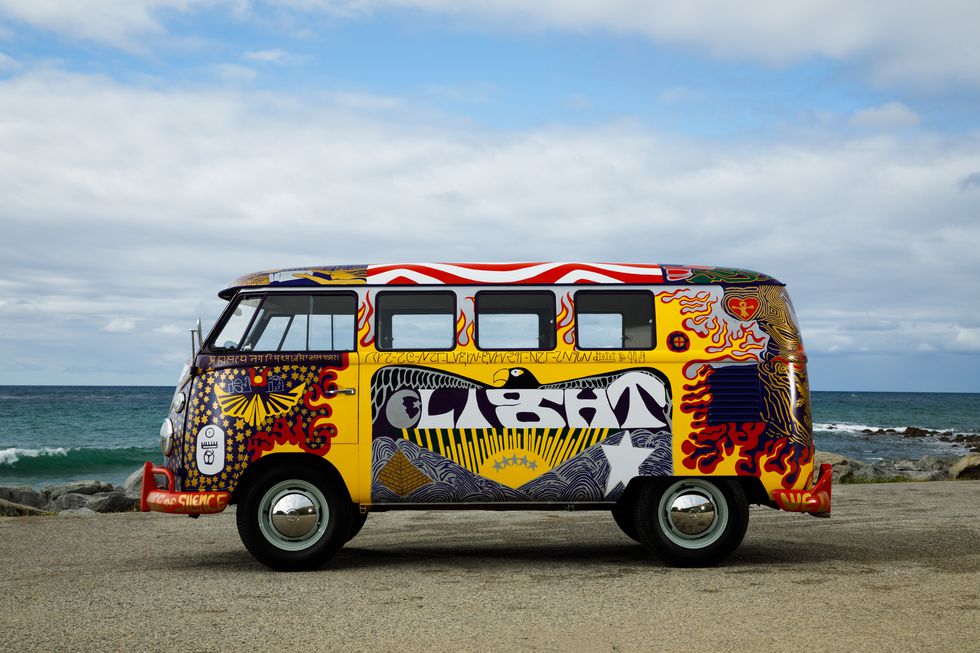 For Yasgur's Farm
It's easy to see the forest for the trees when we talk about the cultural impact that Woodstock made in defining the Swinging Sixties. To some accounts, it's almost like the festival happened in a vacuum of time, uninfluenced by the events and history surrounding it.
Lest we forget the context of this pivotal moment, remember that less than a month before, man had walked on the moon for the very first time.
The fights for both civil rights and peace in Vietnam had been in full swing for years, reaching boiling over points in America as well as across the globe.
That previous January, The Beatles gave their last public performance on the roof of Apple Records; only weeks after Led Zeppelin released their first album in the United States.
Woodstock is really only the tip of the iceberg, the high water mark for the social movements and lifestyles that came to define this entire decade.
As the 50th year of Woodstock passes, it's impossible not to look back with a certain sense that its work is not done, and may never be truly finished. What the VW Bus has come to represent is a spirit that is still alive and well. The cacophony of influences that once weaved into each other to help create that magical weekend in 1969 has never truly gone away.
The spirit to which that weekend put a name, a face, and a memory, like the engine of an air-cooled Volkswagen Transporter, can never truly die.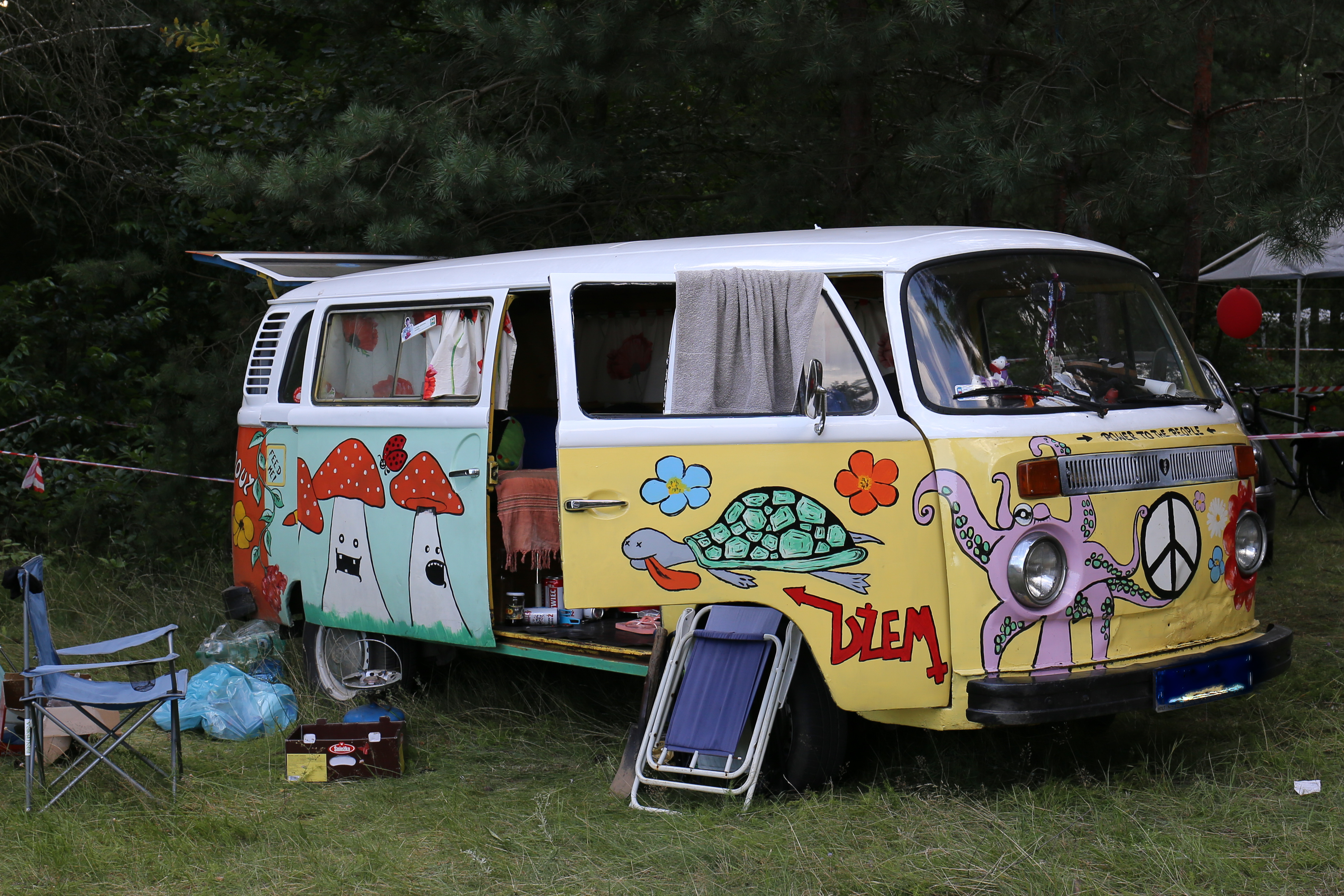 Magic Bus
The VW Bus has always held a certain spiritual quality, and through the lens of time its very existence has been condensed into a social statement. John Muir's How to Keep Your Volkswagen Alive originally bestowed a Zen-like wisdom to an audience that often cared less about technical specifications and mechanical physics than just how to keep their often-combined home and transportation kicking just a little further down the road.
He offers advice that is as relevant to car maintenance as it is with one's own friends, family, and self.
"Talk to the car, then shut up and listen. Feel with your car; use all of your receptive senses and when you find out what it needs, seek the operation out and perform it with love. The type of life your car contains differs from yours but is 'Life' nonetheless. Its Karma depends on your desire to make and keep it ALIVE!"
We know a good number of readers work their butts off to maintain these wonderful icons of 60's Americana. If you ever find yourself knee-deep in mud and pouring rain, just scrapping by to keep the whole thing together and start doubting whether or not it's all worth it; remember the words of that young man who cheered on Creedence's 3am concert 50 years ago:
"Don't worry about it, we're with you."