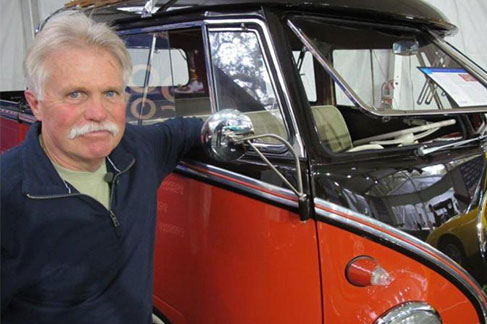 Wayne Carini, the owner of F40 Motorsports, is an avid classic car restorer with pretty much a lifetime of automobile experience. [1] "Wayne's passion for cars started when he was a child, working alongside his father on such classics as Duesenbergs, Lincolns, Packards and Ford Models As. Carini has a resume that includes body and paint work on rare car collections owned by the likes of David Letterman, tennis great Ivan Lendl and the DuPont family." He can also add television personality to his resume because he is the host of Velocity Channel's Chasing Classic Cars, a show about buying and selling classic cars.
We recently watched an episode that immediately caught our attention when Carini discovers something every classic VW enthusiast would love.
Follow along as we take you through the seventh episode of Chasing Classic Cars' ninth season, aptly titled, Wayne's Good Karma(ann) Ghias.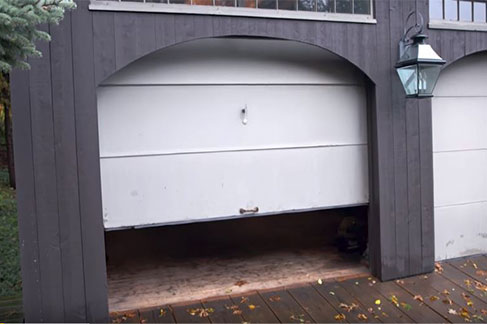 First of all, this garage looks more like a house than a garage. It is temperature controlled, has wood floors and is the size of a master bedroom including the on suite bathroom. However, it isn't the garage that grabs Carini's attention; it's what on the inside that has us all on the edge of our seats. As the doors roll up on the two-door, six car garage, it's as if the heavens shine their light down on two of the most beautiful classic Volkswagens.
Sitting inside is a pair of robin egg blue, early 1960's Volkswagen Karmann Ghias; one a coupe and the other a convertible.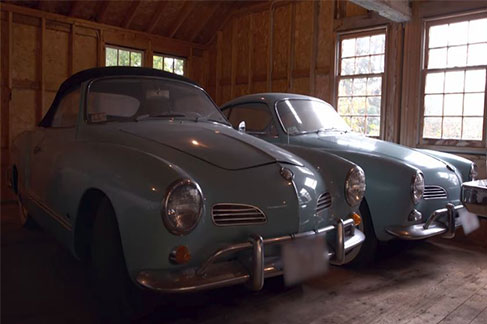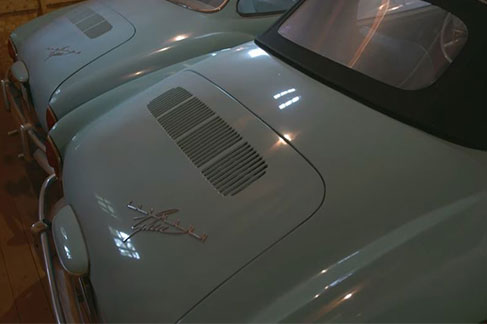 Carini says, [2] "It's very rare that you find both a coupe and a convertible, especially in one garage."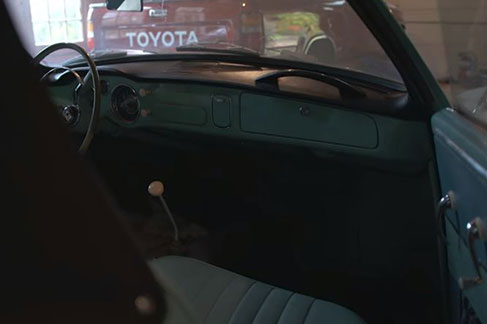 The convertible model was purchased as a honeymoon car, but after marrying her fourth husband, who was jealous of the fact that it was the honeymoon car with the third husband, the owner decided to sell it. This Karmann Ghia features a restored interior including headliner and convertible top and a fresh coat of paint. All of the updates are remastered to the exact original Karmann Ghia specifications. According to Carini, [2] "It looks like they did a nice job. It's been restored exactly as original. It has beautiful interior, dash board cover has no cracks at all and all the original components are with the car. So that's really cool to find a car that is totally original and very well kept with all its original components."
Connie, the co-owner of the Ghias, says the coupe model has an interesting story. [2] "It belonged to a young man who was in the Korean War and unfortunately he never came back. They [his family] wanted it to have another home so that's eventually how we ended up with that one." When Carini lifts the engine compartment lid of the coupe, he is happily surprised to see the original air cleaners. It's common for people to change the air cleaners when looking to ramp up their engine power, especially when adding a new exhaust system.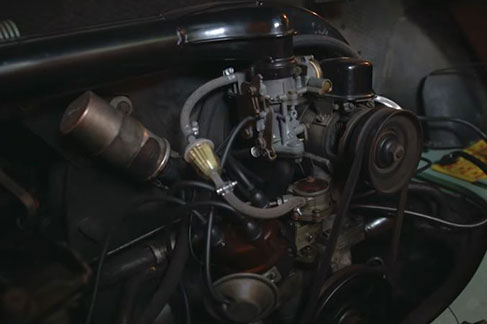 As Carini scours over every detail of the Karmann Ghias, the owner shares that both of the engines are original and have never been removed or tampered with since the original purchase. Carini is surprised to see how well taken care of this pair of Karmann Ghias are. He says, [2] "Both of these cars are perfect. No rust and nothing has been done to these cars. These cars have been perfectly kept!" Carini loves the pair so much, he purchases them.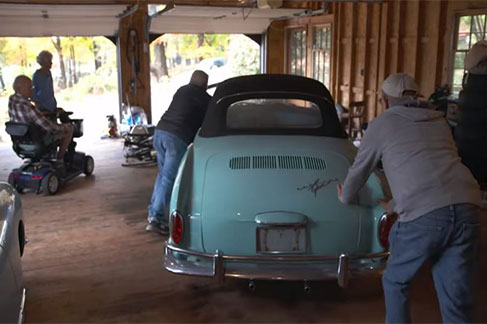 It's not that often to stumble upon such well-kept classic cars. Most of the classic cars you see today are ground-up restorations, replicas or resto-mods. Don't get us wrong, there is nothing wrong with any of these types of classic cars but where you'll find the highest value and greatest demand is with completely original, flawless classics.
If you're in the market for a classic car, check your local listings or visit www.TheSamba.com for classic car classifieds. You can also follow Wayne Carini on Instagram for tech tips, professional insight and best in the business guidance.
Thanks for stopping by the JBugs Blog! Be sure to check back every two weeks for more insightful articles, product spotlights, fun features and rad restorations.
---
References
[1] F40 Motorsports. [n.d.]. Meet Wayne Carini and Mike Roberts: Wayne Carini, Owner. [F40 Motorsports Online Biography]. Retrieved on 02/27/2018 from http://www.f40.com/page.php?page=Meet_Wayne_Carini
[2] Velocity. [2017]. Check Out This Perfect Pair of VW Karmann Ghias. [Velocity YouTube Channel Video]. Retrieved on 02/27/2018 from https://www.youtube.com/watch?v=YEWhmce2LxI
Photo Credit
[1] Main Page http://www.tvguide.com/tvshows/chasing-classic-cars/episode-17-season-6/invitation-only/298578/
[2] Wayne Carini http://hooniverse.com/2012/05/10/what-would-you-ask-wayne-carini-of-chasing-classic-cars/
[3-9] VW Karmann Ghias https://www.youtube.com/watch?v=YEWhmce2LxI