Over the holiday break, JBugs surfed through the channels to find movies from today that feature classic Volkswagen models. Our past two blogs about VWs in motion pictures were from back in the day but now we've spotted the classics in films from the 2000's. We can't list them all, we don't have much time but we found some of our favorites and hope you enjoy!
---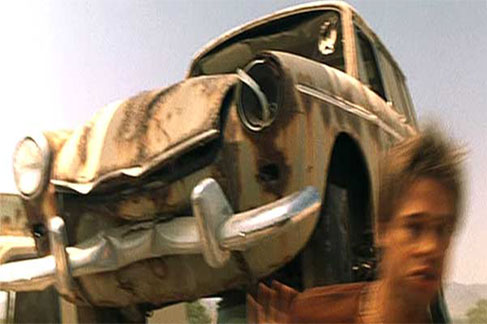 Judging from the picture, it looks as though Jerry Welbach, in 2001's The Mexican, is about to be crushed by an airborne 1966 Squareback. Not too sure what's going on here but it's another classic VW to check off our list.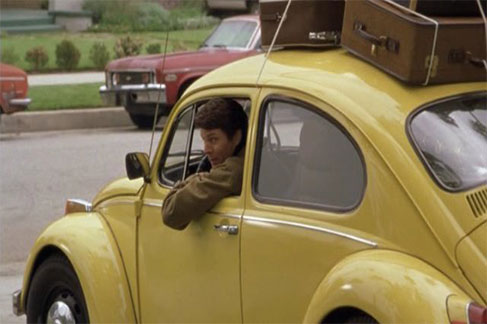 Apparently, Beetles are the car of choice for murderers because yet again, someone who murdered another person or two (definitely more) uses a Beetle for transportation. In Ted Bundy, the infamous murderer drives around a yellow 1970 Beetle.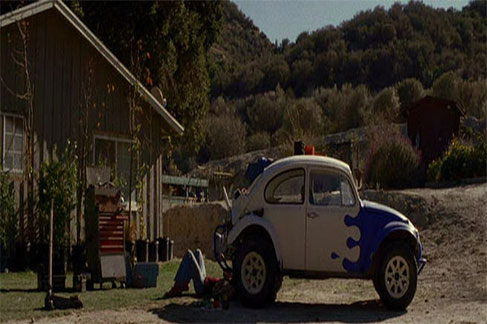 When Johnny Truelove tries to evade the law after masterminding a kidnapping and murder, he seeks refuge at his friend Buzz Fecske's house where you will see Buzz working on a custom painted Baja Bug in the 2006 drama, Alpha Dog.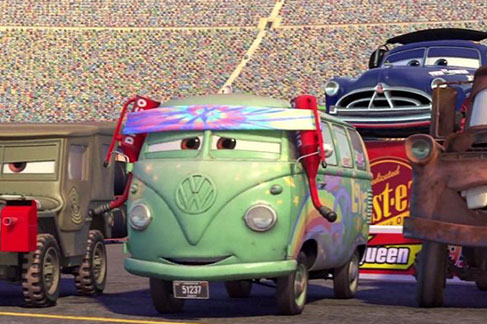 We know some readers will be skeptical about our next VW but it was voiced by one of the most influential stand-up comedians of all time. In Disney's Cars, George Carlin lends his chill vibe voice to the green and groovy Bus.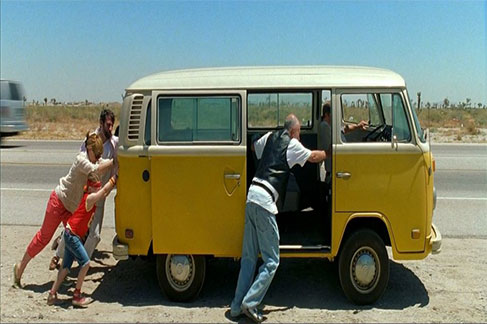 In 2006's Little Miss Sunshine, a family travels cross country in an old, beat down yellow Bus to get their daughter to a pageant where she kills her dance routine in a leotard that must be at least two sizes too small.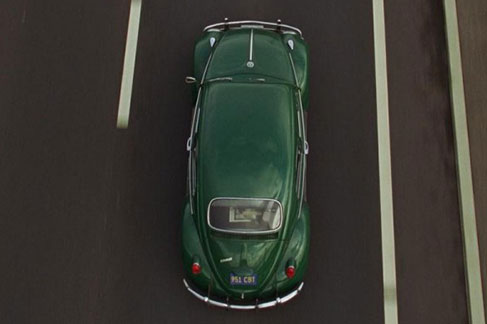 Even after reading the synopsis and multiple reviews, we still aren't too sure what Cloud Atlas is about but we do know that Halle Berry gets into a pretty bad accident after being hit while driving a 1966 Beetle.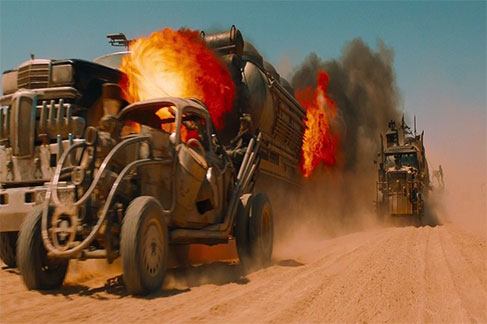 Last but not least, you will see some pretty trippy VWs in the latest installment of the Mad Max franchise, Mad Max: Fury Road. It takes place in a post-apocalyptic world where protection is necessary when entering the wasteland. Each vehicle, including a Type 1 and Beetle, is equipped with weapons, such as flamethrowers and machine guns, as well as outer armor.

You thought you saw the last of our Volkswagen appearances?! Think again and check out the following slideshow with more of the classic Volkswagens on the silver screen.

[wbamp-hide start]
Before Katie Holmes became Mrs. Tom Cruise, she was in a little movie called First Daughter where she drove herself to a dance in a lime green 1973 Super Beetle.
We always knew people called their lowered cars sleds but in 2004's Christmas with the Kranks, the term was taken to a whole new level when a 1974 Super Beetle turned out to be Santa's sleigh.
After two teenagers find their 1972 Super Beetle turned upside down, they are chased by a terrifying monster through swampy woods in the 2005 horror film Venom.
When Kate Hudson starred as the leading lady in The Skeleton Key, she drove a red 1971 Beetle through the streets of New Orleans.
Jimmy Fallon played a quirky teacher who loved the Red Sox and drove a 1976 Beetle in 2005's Fever Pitch.
The orange 1973 Super Beetle used in the 2007 horror film, Trick 'R Treat, matches the town's Halloween decorations perfectly.
Camille, the female counterpart to 007 himself, picks Bond up from a hotel in a classy Beetle in the 2008 action film Quantum of Solace.
❮
❯
[wbamp-hide end]