The Love Bug - 1963 Volkswagen Beetle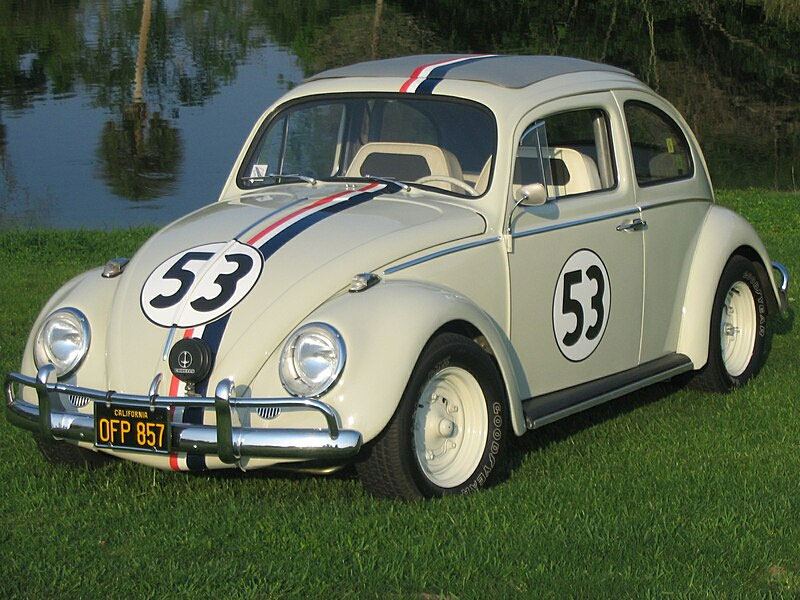 The 1968 film, The Love Bug, introduced us to one of pop culture's most beloved and enduring characters, Herbie.
Herbie, a 1963 VW Bug, is recognized the world over with his iconic red, white, and blue racing stripes and the number 53 on his doors and hood. Herbie is more than just a car. He is lovable, funny, and loyal to his human driver. He also has some really cool driving skills, like doing wheelies and even driving under water.
The Love Bug kicked off an entire Herbie franchise with four additional films, merchandise, toys, and more. Herbie, the Love Bug, has captured the hearts of generations of moviegoers and continues to be a cherished symbol of friendship, adventure, and the enduring appeal of classic Volkswagen Beetles.
Goldfinger - 1963 Aston Martin DB5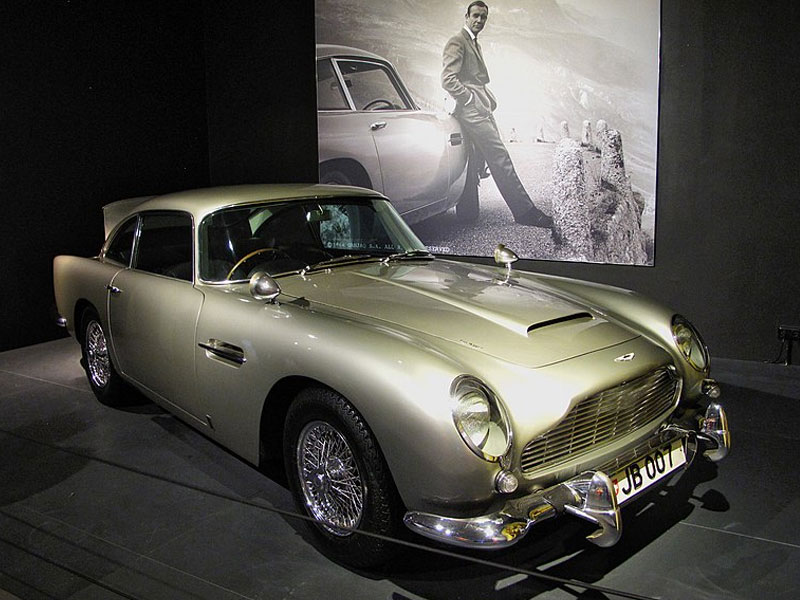 One of the most recognizable cars in cinematic history is the 1963 Aston Martin DB5 featured in the James Bond film series. The car made its debut in the 1964 movie Goldfinger and has since appeared in multiple James Bond films.
The DB5 was a two-door coupe with iconic design elements like the distinctive Aston Martin grille and sleek curves. It featured elegant, timeless lines that epitomized luxury and sophistication. Perhaps the most famous aspect of this car though was the various gadgets it employed including built-in guns, ejector seat, oil slick sprayer, bulletproof shield, tire slasher, and a rotating license plate. It had everything a world renowned spy like James Bond needed to get the job done.
The DB5 is loved by automotive enthusiasts and movie buffs alike, and it is often regarded as one of the most iconic symbols of James Bond's legacy.
American Graffiti - 1932 Ford Coupe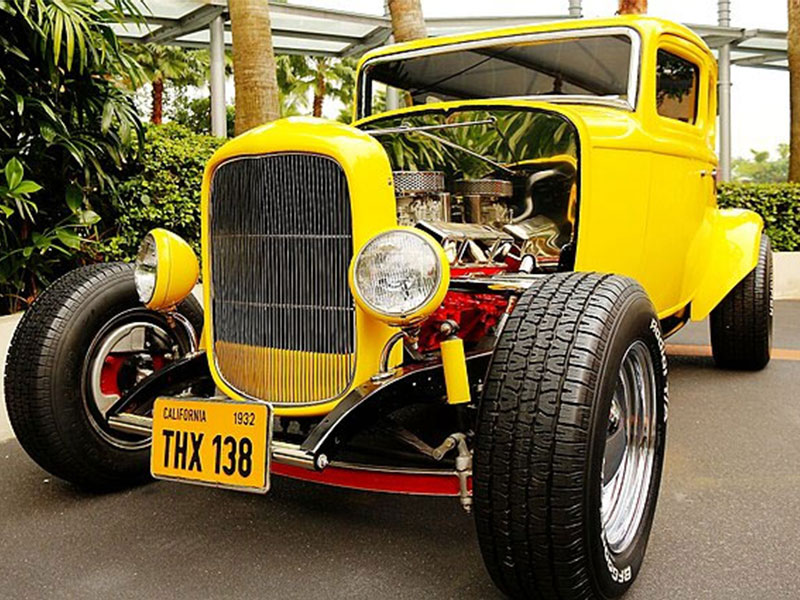 The 1973 film, American Graffiti, features several classic cars, but the gem of the film is this 1932 Ford Coupe. This car, nicknamed a "Deuce Coupe", is a classic hot rod and one of the most beloved cars in automotive history.
It features a distinctive design with a sleek, low-slung body, rounded fenders, and a distinctive grille. In the film, the car is painted yellow with black flames on the front.
The 1932 Ford Coupe in the film is more than just a car; it's a symbol of the nostalgia and excitement of youth culture in the 1960s. Its role in the film and its association with hot rodding and cruising have made it a beloved and enduring icon.
Bullitt - 1968 Ford Mustang GT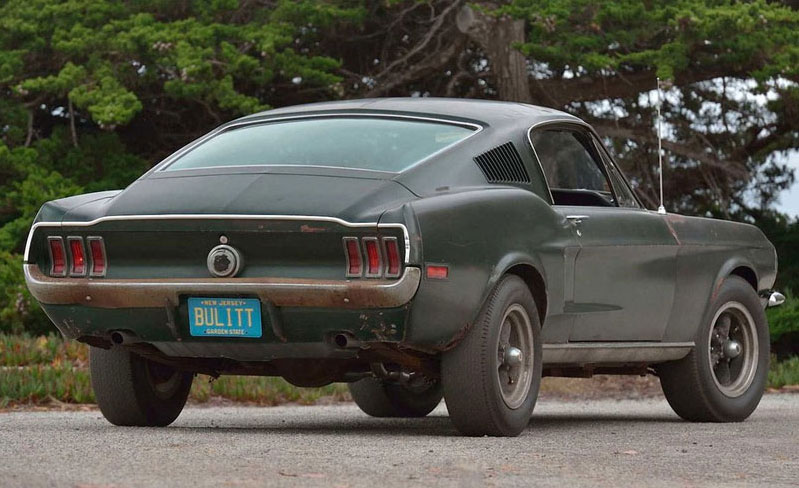 The 1968 Ford Mustang GT Fastback featured in the movie Bullitt is one of the most iconic cars in film history. Steve McQueen's car chase through the streets of San Francisco is legendary. This film set a new standard for cinematic car chases.
This dark green Mustang featured a 390-cubic-inch V8 engine with approximately 325 horsepower. This made it powerful and fast for its time, which was evident in the intense chase scenes in the film.
The Mustang's association with Steve McQueen's cool and tough image further cemented its place in pop culture.
Smokey and the Bandit - 1977 Pontiac Firebird Trans Am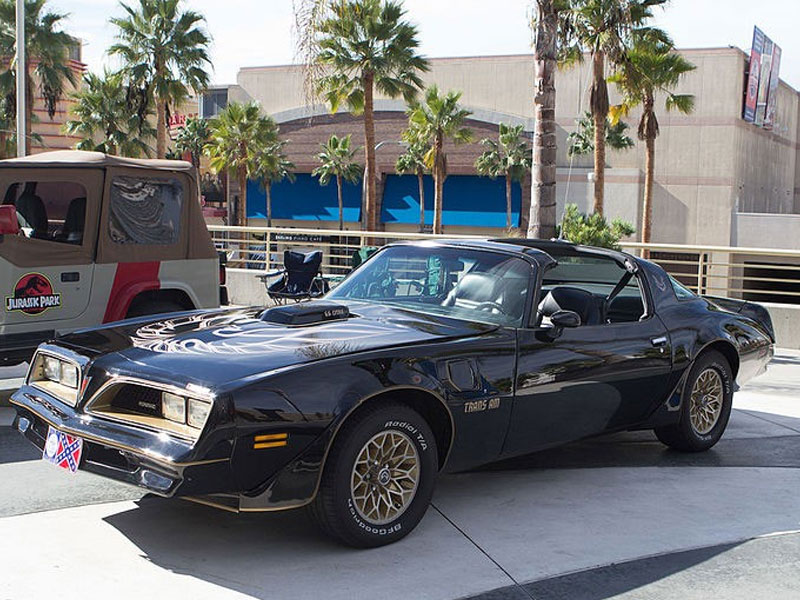 The 1977 film Smokey and the Bandit kicked off a three film franchise and made the Trans Am America's favorite muscle car.
The 1977 Pontiac Firebird Tran Am had a sleek and aggressive appearance. The Trans Am's stylish design; black with gold accents, its shaker hood scoop, and distinctive front-end styling, contributed to its appeal.
In the film, the Bandit, played by a charismatic Burt Reynolds, drives this car in a wild cross-country chase. The film is beloved by car enthusiasts for showcasing the high speed, rebellious driving, and performance of the American muscle car.
Gone in 60 Seconds - 1967 Shelby Mustang GT500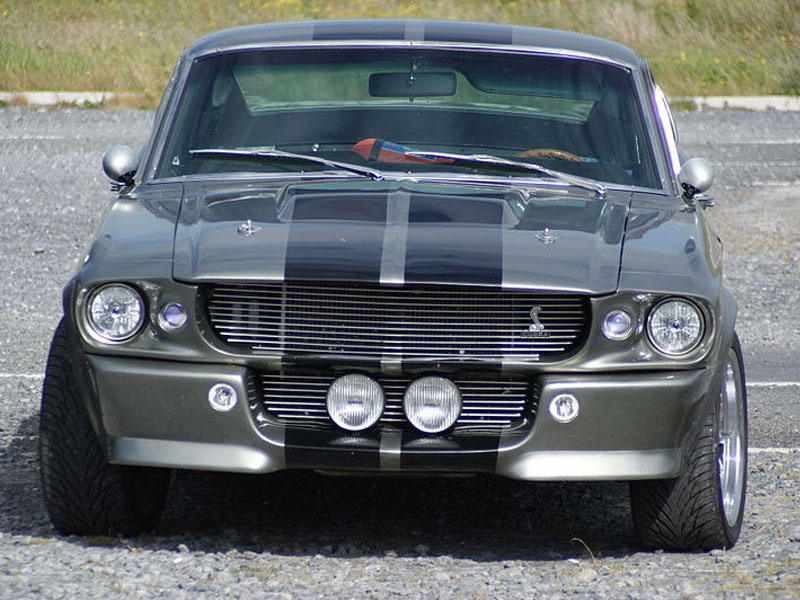 In the 2000 film Gone in 60 Seconds Eleanor, a 1967 Shelby Mustang GT500, is the "unicorn" of cars, the most coveted and elusive vehicle for Nicholas Cage's car thief character.
The car features aggressive body styling, including a distinctive hood scoop, flared fenders, custom wheels, and a glossy silver paint job with black racing stripes.
The depiction of the Mustang in the film significantly contributed to its popularity among car enthusiasts and movie fans. Eleanor became an instant icon, and the car chase scenes featuring it are among the most memorable moments in the movie.
The Fast and the Furious - 1970 Dodge Charger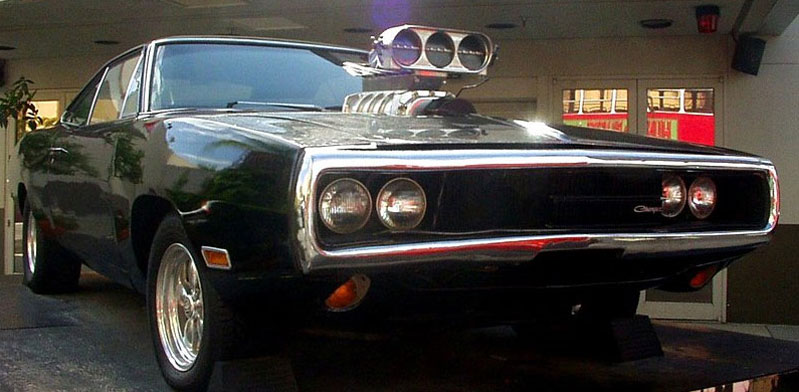 The 2001 film The Fast and the Furious kicked off an impressive franchise of twelve movies (and counting).
These films feature an array of turbo charged, tricked out street racers, but none more impressive than the 1970 Dodge Charger driven by Vin Diesel's character. The Charger has a distinctive and muscular design with a long, sloping front end and a fastback roofline.
Its prominent role in the films has solidified its status as an enduring and beloved movie car in the hearts of fans worldwide.
Christine - 1958 Plymouth Fury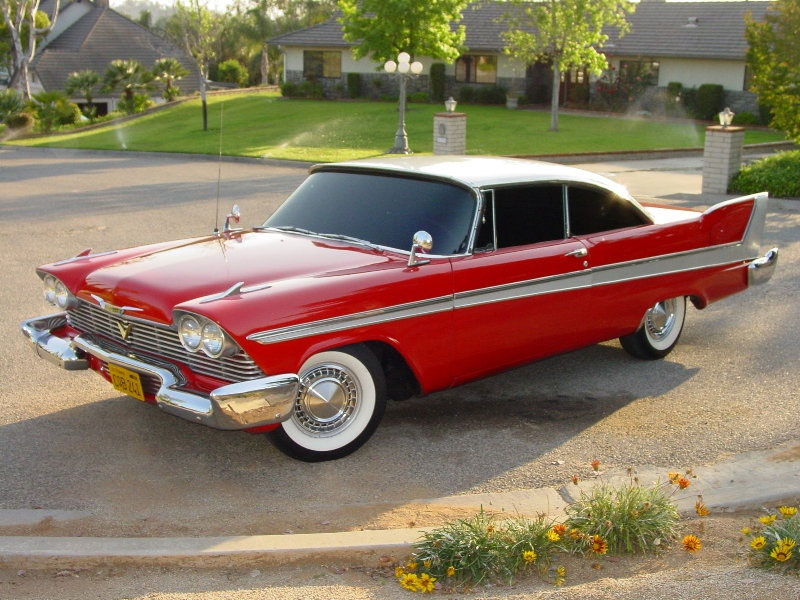 In the 1983 Stephen King movie Christine this 1958 Plymouth Fury takes on a life of its own when it becomes possessed and murderous.
The Fury has an all-American classic 1950s look with a vivid red and white color scheme, wide chrome accents, quad headlights, and prominent tail fins.
But this is no ordinary car. Its transformation from a classic car into a terrifying and possessed entity has left a lasting impact on viewers and continues to be a popular subject for discussions and references in pop culture.
Classic Volkswagens In Movies
Almost everyone knows about Herbie, the Love Bug, but did you know that there are other VWs that have had their share of the limelight? VW has been making its mark in movies since the early 60's and still to this day you can catch a glimpse of the classics. Here are some VWs that have left their mark on the silver screen.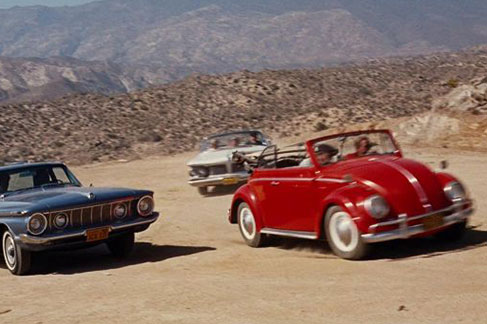 It's A Mad, Mad, Mad, Mad World - 1954 VW Beetle
One of the earliest spotting's of a classic VW appeared in the 1963 film, It's a Mad, Mad, Mad, Mad World, about a group of greedy strangers who set off to find a fortune of buried treasure left behind by a dying thief. Two people from the group take off in a classic 1954 Beetle and what follows is over two hours of slapstick comedy.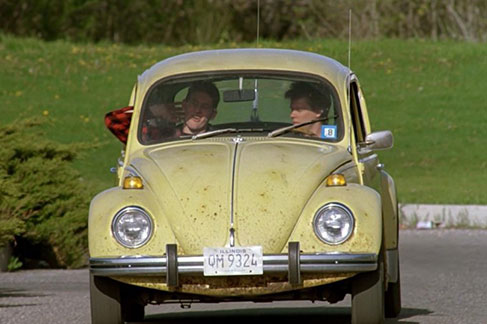 Footloose - 1972 VW Beetle
Dancing and music may have been banned from the small town in 1984's Footloose, but there is no shortage of cool, classic cars including Chevy Malibus, GMC C-1500s, Jeep Wagoneers and Pontiac Grand Villes. Ren, a newcomer, drives a yellow 1972 Beetle and even uses it as a platform for dancing.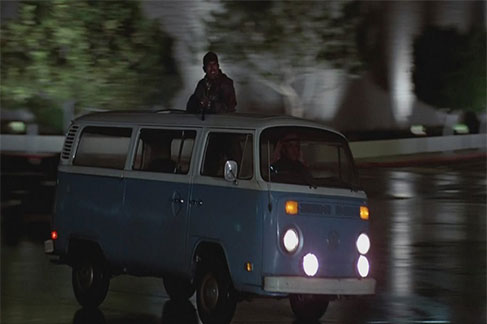 Back to the Future - 1975 VW Bus
During a scene in the first Back to the Future, a 1975 Bus rolls through the streets with a man standing through the sun roof yielding a machine gun. This is a brief, but memorable scene as it is the first time we see the Dolorean time machine in action while trying to escape the chase from the VW Bus.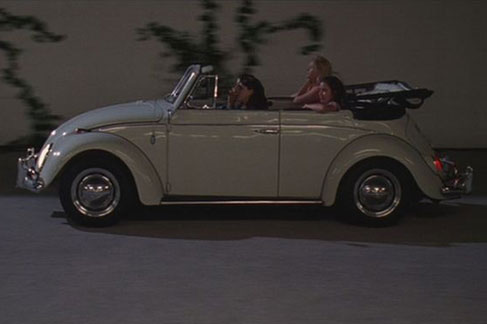 Dazed and Confused - 1965 VW Beetle
You'd be a lot cooler if you recognized the senior who got to drive a 1965 Beetle in the 1993 classic Dazed and Confused. This film had such a great lineup of classic cars, including Chevy C-10's, Camaros, Chevelles, Ford Mavericks, Pontiac Firebirds and even a 1973 Thing parked at a burger hop.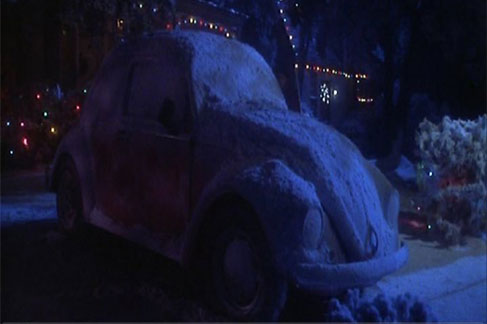 Gremlins - 1967 VW Beetle
In the unintentional comedy Gremlins, you will see a snow covered 1967 Beetle. The Bug, driven by the main character Billy, is always having trouble starting and breaking down, causing issues for Billy when he needs to get to work on time or when he's running from little green monsters.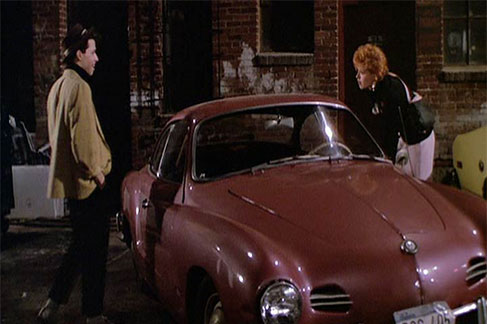 Pretty in Pink - 1959 VW Karmann Ghia
Molly Ringwald's character in Pretty in Pink drives a pink-ish 1959 Karmann Ghia. The movie centers around a high school romance between a girl with a working-class background and wealthy, popular boy. While this Ghia was a representaiton of a "poor" lifestyle, we will take it over a fancy sports car any day!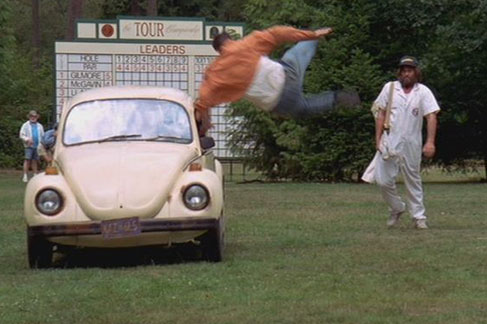 Happy Gilmore - 1976 VW Beetle
Happy Gilmore probably has one of the most interesting scenes for a VW. He definitely wasn't in his Happy place when he got hit by a 1976 Beetle on the golf course. This scene is played for comedic effect, with Happy miraculously surviving the collision relatively unharmed, aside from some minor injuries.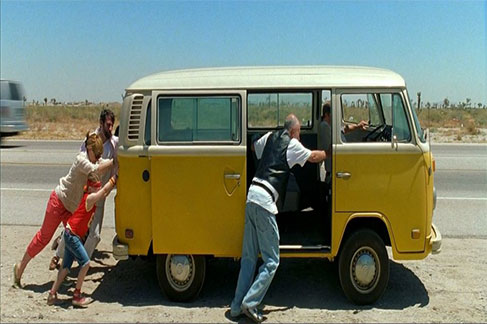 Little Miss Sunshine - 1963 VW Bus
In Little Miss Sunshine, the Hoover family travels cross country trip in this yellow Bus to get their daughter to a pageant where she kills her dance routine in a leotard that must be at least two sizes too small. The bus is old and unreliable, and the Hoover family faces various challenges and comedic mishaps along the way, including breakdowns and engine trouble. Despite its mechanical issues, the VW Bus serves as a symbol of the family's togetherness and determination as they navigate the ups and downs of their dysfunctional family dynamics during the road trip.