Yes, you read that right. Back in the early 1960's VWs were surprisingly used as drag cars in the NHRA gas classes. Hot Rod magazine published an article in 1965 regarding a 1956 VW sedan that cracked 100 MPH in 13 seconds, writing, "Who would have thought a Volkswagen could win Street Eliminator?"
Honestly, who would have thought that an air-cooled, four-cylinder, 36 horse powered engine could clinch one of the most diverse categories in the NHRA? The answer is: quite a few people actually because VWs dominated the H/Gas and I/Gas Modified Eliminator classes for nearly 20 years.
The first competitive VW in drag racing history is the infamous EMPI Inch Pincher, a 1956 Bug driven by Dean Lowry and Darrell Vittone. The Inch Pincher was built to promote Joe Vittone's company, EMPI High Performance Parts and after 50 years of drag racing, still holds plenty of NHRA records, including a 13.30 second run at a speed of 101.8 MPH and a half-mile drag record of 115.53 MPH.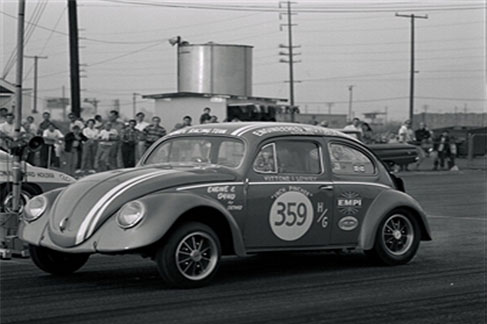 After watching the Inch Pincher race at the Irwindale Speedway, Bill Clarkson, an avid car builder, decided to build a drag car himself. Clarkson [1] says, "After I saw one run I decided to build the car. I just could not get over how fast it was just blasting by a Corvette in a heads up race." He built the Iguana, a 1956 Bug, from the ground up in his garage. With a custom built crankcase, hand-machined intake valves and one of the biggest engines a VW has seen, the Iguana ran 11.9-12.1 seconds at over 110 MPH.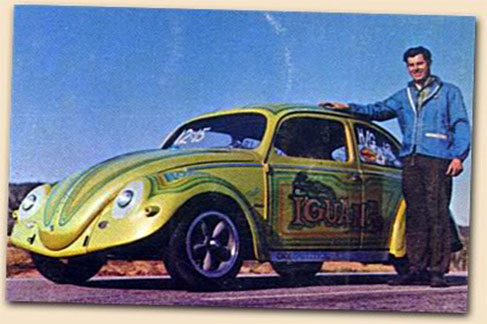 The next two VW drag cars, Underdog and Tar Babe, were built by Ron Fleming and Greg Aronson in the early 70's. Fleming and Aronson laid the groundwork for the Cal-Look of classic VWs and built some pretty rad drag cars. Both Underdog and Tar Babe spent some time on the drag strip but Tar Babe went on to race in Mexico City, winning the Mexican Super Street Championships two years in a row.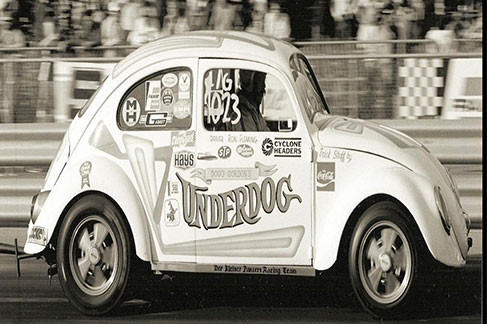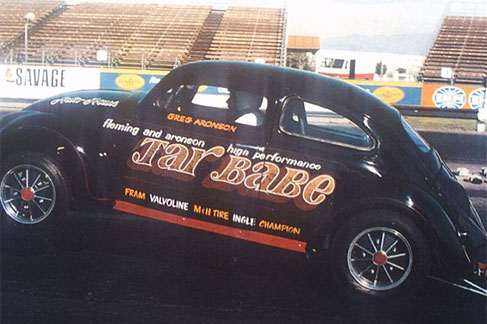 In the late '60's, Audley Campbell, owner of Stuttgart Motors, built a '56 Bug using Porsche performance parts, fiberglass body pieces and custom plexiglass windows. After finishing the bug with a gold metal flake paintjob, it was named the Stutt Bee and wowed crowds all over the California speedways.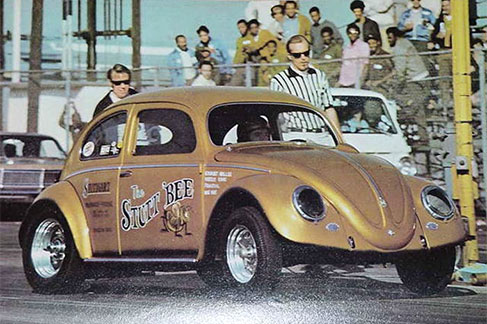 The NHRA [2] named our next drag bug, "One of the most popular and well-remembered Funny Cars of the era." The Durachrome Bug, driven by Warren Gunter, had a unique extended body and a "nitro-burning Chevy" engine. Even though the Bug ran down the track in seven seconds flat going 210 MPH, it lost its sponsors due to Durachrome going out of business and was sold to a lucky driver on the North West Coast.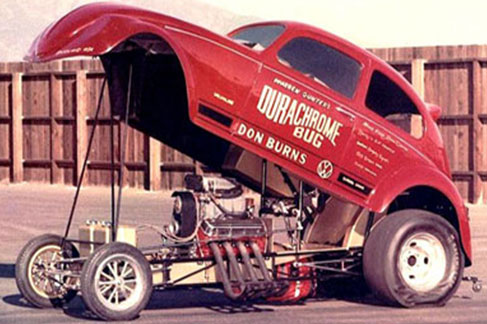 The sport of drag racing is tough enough; factor in the funds to maintain the car on top of paying the crew, and keeping a drag race team alive is quite a difficult challenge. Sponsors play a huge role in the longevity of a team, as well as how the sport is marketed. Because of the lack of sponsors and a small amount of marketing, Bugs slowly gained momentum into the racing circuit and weren't officially part of the NHRA until 1972.
For nearly 20 years, Bugs competed against similar drag cars with little recognition but all of that changed when Paul and Mark Schley successfully completed a run down the strip with an elapsed time of 10 seconds in a 1960 Bug. The NHRA created a special category for cars of the bug caliber, the Modified Compact category, and for 12 years was one of the highlights of the races until 1984 when the entire category was dropped.
Even though VWs were no longer able to compete in the NHRA, race enthusiasts and fans alike created the Pro Racing Association (PRA), a racing circuit designed exclusively for VWs in 1988. Over the years, the PRA outgrew its Western roots and established an East coast association, as well as one specifically for the entire state of Texas.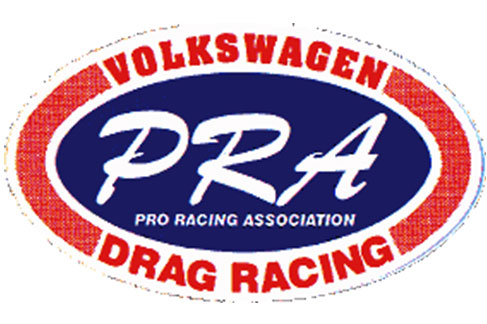 The PRA isn't the only VW racing association; in fact, one of the longest running VW events happens to be right here in Southern California. The Bugorama Racing Series takes place twice a year and offers more than just drag races. Attendees will experience a VW only car show and swap meet, as well as meet the nation's best VW dealers, mechanics and parts distributors.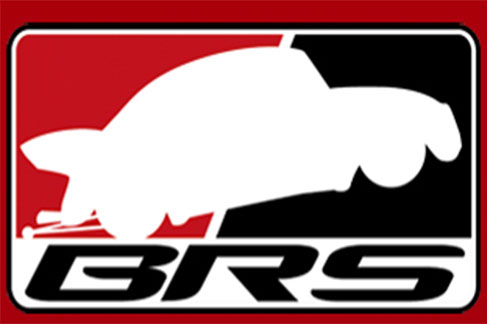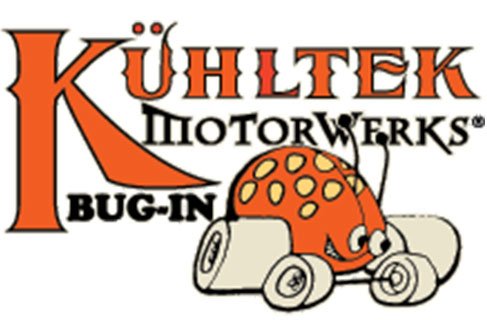 Southern California is also home to the Bug-In, a weekend event dedicated to VW drag racing. Like the Bugorama, attendees can enjoy a swap meet and see the latest VW vendors and parts distributors. There is something for everyone to enjoy at these drag racing events but be warned that once you go, you'll never want to leave.
References
[1] El Dub. (n.d.). The Iguana Story. [Cal-Look Online Article]. Retrieved on 10/17/2017 from http://cal-look.no/nostalgia/iguana.html
[2] Burgess, P. (2009). The Durachrome Bug. [NHRA Online Article]. Retrieved on 10/18/2017 from https://www.nhra.com/news/2009/durachrome-bug