1. Start A Photo Booth Business
Running a photo booth business for events and weddings has become a fun and trendy venture. According to Global Market Insights, the photo booth industry saw remarkable growth, surpassing the $580 million mark in 2022, with further expansion anticipated in the future. This trend is so prevalent that even renowned wedding platform, The Knot, has devoted a section of its website to an extensive directory of photo booth vendors.
If you're looking to distinguish yourself from the competition, incorporating a classic car into your photo booth setup can be a game-changer. Our customer Heather, for example, owner of Snapshots Photo Booth in New York, cleverly employs her vintage 1977 VW Bus as the centerpiece of her photo booth business. Heather's clients have the opportunity to use her charming VW Bus to craft exquisite wedding portraits, like in the image below. They can also opt for candid photo booth snapshots, offering them a distinctive and memorable experience along with a delightful keepsake to cherish.
Launching a photo booth business requires only a modest initial investment, especially if you already possess a desirable classic car to feature. The key elements you'll need to get started include:
High-Quality Digital Camera: Ensuring sharp and vibrant photographs.
Lighting: To create the perfect ambiance and illumination.
Backdrop/Decor: To set the scene and add a touch of elegance or fun.
Props: An assortment of props to spark creativity and laughter among your customers.
Polaroid/Instant Print Camera (optional): This can add an extra dimension to your offerings, allowing instant tangible photo souvenirs for your clients.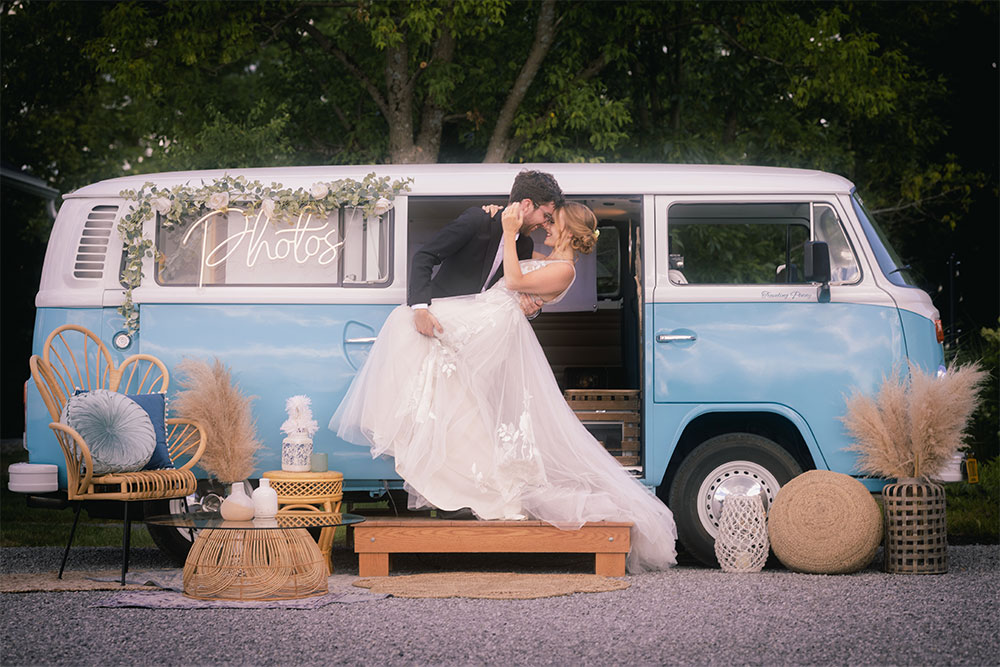 2. Rent Your Car Using An Online Marketplace
Numerous online car rental marketplaces focus on offering unique vehicles, connecting vintage car owners and individuals in search of distinctive driving experiences. These platforms enable customers to fulfill their dreams of renting and driving iconic cars. Additionally, classic cars can gain fame through appearances in films and print media.
Among these car rental platforms, DriveShare, Turo, and Vinity stand out as the three most popular choices, each offering slightly varying services.
DriveShare, owned by Hagerty Insurance, specialists in classic car insurance, offers robust protection for both car owners and drivers. They provide a diverse range of rental options, encompassing driving rentals, event and photo shoot rentals, chauffeured rentals, commercial media rentals, and even the ability to build your own rental experience.
Turo exclusively caters to driving rentals, offering a tiered fee structure dependent on the insurance coverage you select. This setup enables owners to potentially pay as low as 10% of the booking amount in fees.
On the other hand, the Vinity platform specializes in photo shoots, commercial rentals, and chauffeured services. While they do provide a range of driving rental options, they do not include insurance coverage. Nevertheless, their competitive 20% fee compensates for the absence of insurance coverage expenses.
View the chart below to see how Driveshare, Turo, and Vinity match up.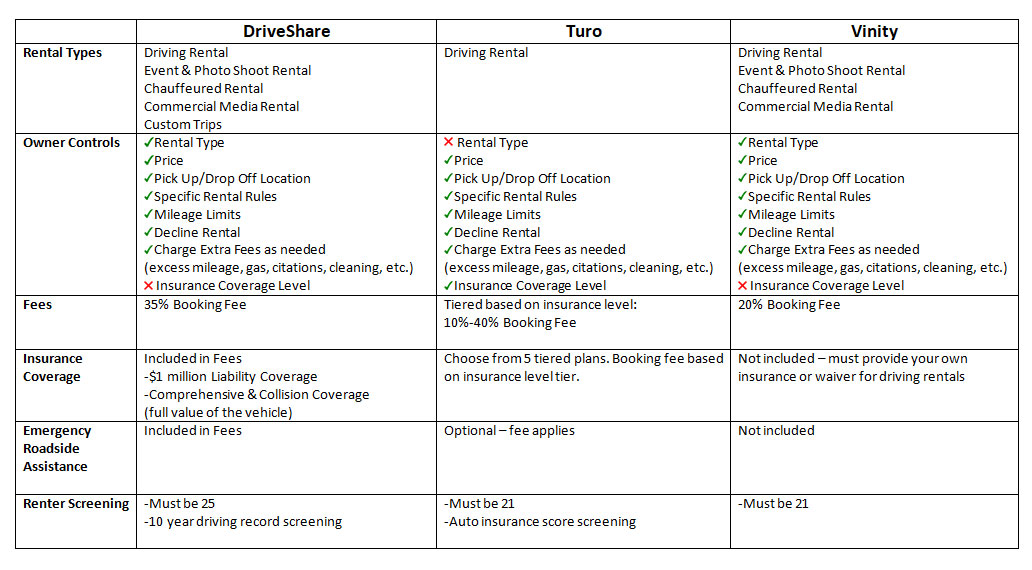 3. Turn Your Classic Into a Food Truck
If you possess a passion for both culinary delights and vintage automobiles, why not combine these passions to embark on your entrepreneurial journey? The food truck industry has experienced exponential growth in recent years, with over an astounding 36,000 food trucks plying their trade in the United States in 2023, amassing a staggering $1.48 billion industry, according to data from Zippia.
Amidst this burgeoning food truck landscape, opting for a classic truck or bus can carve out a distinctive niche that attracts customers. This concept has gained substantial popularity, exemplified by companies like Karpatia Trucks based in Atlanta, GA, which specializes in transforming vintage vehicles into culinary havens on wheels. Their expertise extends to a wide array of retro vehicles, including VW Buses, vintage Ford Trucks, Studebakers, Citroens, and more.
While this may be a trendy idea, the pivotal question remains: is it a viable one? As is the case with starting any business, it comes with inherent risks. Fora Financial has offered some pros and cons associated with embarking on a food truck business.
Pros:
1. Create Your Own Menu: You have the creative freedom to craft a unique and appealing menu.
2. Be Your Own Boss: As the proprietor, you call the shots and steer the business in your desired direction.
3. Less Risky & Less Expensive Than Opening a Restaurant: Compared to launching a traditional restaurant, food trucks typically entail lower startup costs and lower risk.
4. Plenty of Opportunities: The food truck industry continues to thrive, presenting numerous opportunities for expansion and growth.
Cons:
1. Working in a Small Space: Operating within the confines of a compact mobile kitchen can be challenging.
2. Local Zoning Laws: Navigating local regulations and zoning laws can pose bureaucratic hurdles.
3. Cost of Repairs: Maintaining and repairing the vintage vehicle can be a substantial ongoing expense.
4. Competition: Depending on your location, you may face stiff competition from other food trucks vying for the same clientele.
Gene, our customer and the owner of Peel the Love, decided it was worth the risk. Together with his family, he lovingly restored a 1972 VW Bus, transforming it into a thriving business that specializes in selling frozen chocolate-dipped bananas. They traverse Myrtle Beach, SC, in their charming "Banana Bus," delighting patrons with their groovy frozen treats. Gene's story serves as just one illustrious example of the boundless possibilities that a vintage food truck can offer.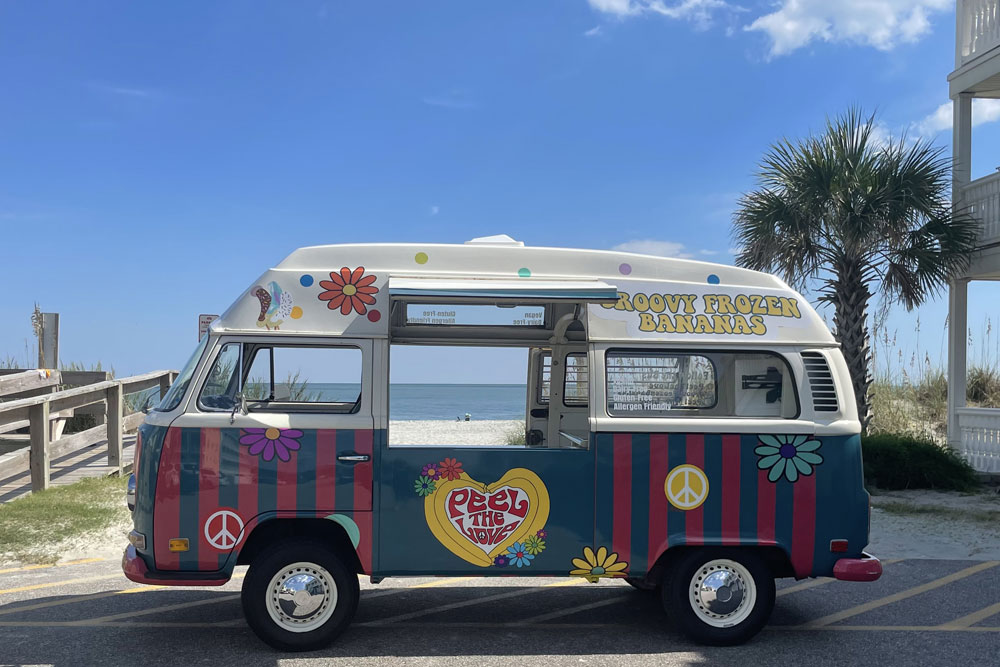 4. Build a Tour Guide Business
If you live in an area that is frequented by tourists, this could be a real way to put your classic car to work. There are plenty of companies using larger classic buses for group tours. In Sonoma, there's a company called West Wine Tours that does wine country tours in their fleet of VW Buses. In San Francisco you can take The Love Tour in a tie-dye painted hippie Bus.
You don't need a big, high capacity classic to make this idea work. My family recently traveled to Cancun and as VW enthusiasts we wanted a chance to ride in a Vocho (Mexican Beetle). With a quick online search I found a local who uses his Beetle to give tours of the area. The tour was limited to two passengers. It was a perfect way for us to see the views.
If you're considering launching a tour guide business, here are several key factors to consider to ensure the success of your venture:
Identify Your Niche: If you own a classic car, you're already in a unique position. Your niche can be your classic car, which can be a major attraction for tourists.
Assess Your City's Tourism Potential: Evaluate the level of tourism in your city. Even if it's not a major tourist destination, there may still be points of interest. You can center your tours around local culture, cuisine, or the city's history. Determine what attractions would appeal to travelers visiting your area.
Analyze the Competition: Conduct online research to discover what other tour operators are offering in your region. Identify areas where you can improve upon existing offerings, whether it's through unique experiences, better customer service, or competitive pricing.
Investigate Licensing Requirements: Every locality may have different regulations and licensing requirements for tour guide businesses. Research the specific permits and licenses needed to operate your tour guide business legally in your city. Complying with local regulations is crucial to avoid legal issues.
Partner with Online Travel Platforms: Utilize online travel companies to promote and sell your tours. Research and select the platforms that align best with your business model and target audience. Consider registering your business on multiple platforms to increase your visibility and reach a broader audience.
5. Use Your Classic to Bring Your Goods & Service to Your Customers
In the present-day marketplace, virtually anything can be conveniently delivered to your doorstep. Leveraging your vintage car as an integral component of your business not only ensures that your product or service reaches your customers directly but also transforms your car into a dynamic mobile advertisement. Your distinctive business vehicle will naturally draw attention, effectively spotlighting your enterprise.
Here are some ideas of how to leverage your classic car for your business.
Mobile Services
The home services sector achieved a substantial milestone, reaching a market value of $600 billion in 2022, and it is anticipated to sustain its growth trajectory, as reported by Valve+ Meter. Within this expansive realm lie a myriad of services, encompassing cleaning services, pest control, landscaping services, and even some more unique offerings such as mobile pet groomers and mobile car detailers. Harnessing the distinctiveness of your vintage car as a focal point in your mobile service can draw considerable interest and attention to your business.
Pop-Up Shops
Transform your classic car into a mobile boutique, a concept ideally suited for vintage vans and buses. With this imaginative venture, you can infuse a touch of ambiance and elegance into farmer's markets or bustling downtown shopping districts. One company, Ozark Mtn Flower Truck, exemplifies this idea splendidly. Their mobile flower shop, housed within a 1970 VW Single Cab named Stella, graces the streets of Springfield, MO. They keep their patrons in the loop through frequent updates on social media, ensuring customers always know precisely where to discover their charming floral offerings.
Delivery
A vintage truck or van can serve as a versatile delivery vehicle for a wide range of goods. Take, for example, our customer Heidi, who operates "Forever in my Heart, Unique Pallet Creations" in Bend, OR. Her VW Single Cab Bus has seamlessly integrated into the core of her business operations. Heidi utilizes wooden pallets to craft exquisite pieces of art and distinctive gifts. Beyond being a striking promotional vehicle for her business, her VW Single Cab also plays a pivotal role as her dedicated delivery truck.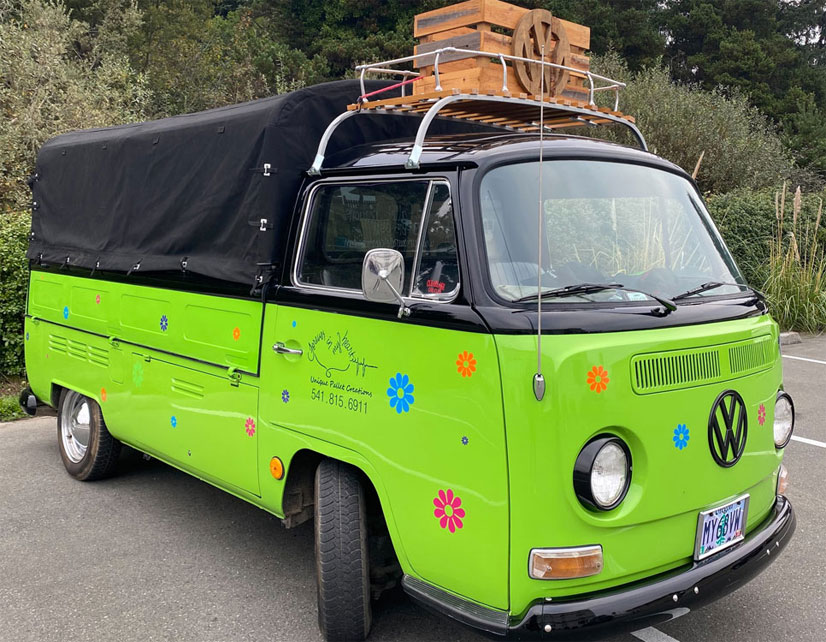 6. Become an Airbnb Host
If you happen to possess a classic camper, Airbnb can provide a fantastic opportunity to supplement your income. Airbnb boasts a plethora of listings for Airstreams and other retro-style campers.
Camper vans and buses are also in high demand. Airbnb listings for camper vans generally fall into two distinct categories: those stationed in a fixed location and those that are self-drive, offering renters both a vehicle rental and accommodation in one package.
If you have available space on your property to accommodate guests in your vintage camper, why not seize the opportunity to earn some extra money?
Certainly, embarking on a journey as an Airbnb host involves both advantages and drawbacks. Here's a breakdown of the pros and cons to assist you in making an informed decision that aligns with your preferences:
Pros:
Income Boost: Short-term rentals generally yield higher income compared to long-term options.
Flexibility: You maintain control over when your camper is available for rent and to whom. Plus, you can reserve the option to use it yourself, as you're not locked into a long-term contract.
Passive Income Potential: Your level of involvement is up to you. You can handle all the cleaning and bookings personally or opt to delegate these tasks to a management company.
Tax Benefits: You can deduct expenses related to maintaining and renting out your camper, offering potential tax advantages.
Cons:
Service Fees: Airbnb imposes a flat 3% fee on all host bookings, reducing your overall earnings.
Legal Considerations: Numerous cities enforce strict regulations on Airbnb rentals, with some places outright prohibiting them. You'll need to conduct thorough research on your local laws and adhere to their guidelines.
Risks: Entrusting your camper to strangers can be unsettling and may expose you to real risks. You must be prepared to handle unruly guests, potential property damage, or even unlawful activities.
7. Make Money as a Youtuber
Earning money on YouTube is a substantial endeavor. According to Small Business Trends data, the average income for a YouTuber in the United States in 2022 amounted to $4,600 per month.
If you're a frequent visitor to JBugs' website, you're likely familiar with our Youtube video series. We provide a diverse range of videos, covering the most common VW repairs. However, we're not the only ones in this space. It appears that YouTube has become a popular platform for individuals looking to generate extra income.

Whether you possess mechanical expertise or not, YouTube offers an audience for your classic car content. While classic car restoration videos enjoy considerable popularity, there's also a niche for videos showcasing car test drives, visits to car shows, or even simple videos featuring the cars themselves.

For instance, consider this video featuring an individual rescuing and restoring an abandoned car; it has amassed an astonishing 12 million views.
Conclusion
These represent just a handful of real-life examples where individuals have leveraged their classic cars for business endeavors. Whether you're considering crafting an entire business strategy centered around your vintage vehicle or simply seeking some additional income on the side, there's a market waiting for your classic car.

Classic cars hold a special place in the hearts of enthusiasts worldwide, providing a unique opportunity to forge connections with people who share the same passion. By tapping into this shared interest, you might discover new customers and embark on an exciting and fulfilling entrepreneurial journey.