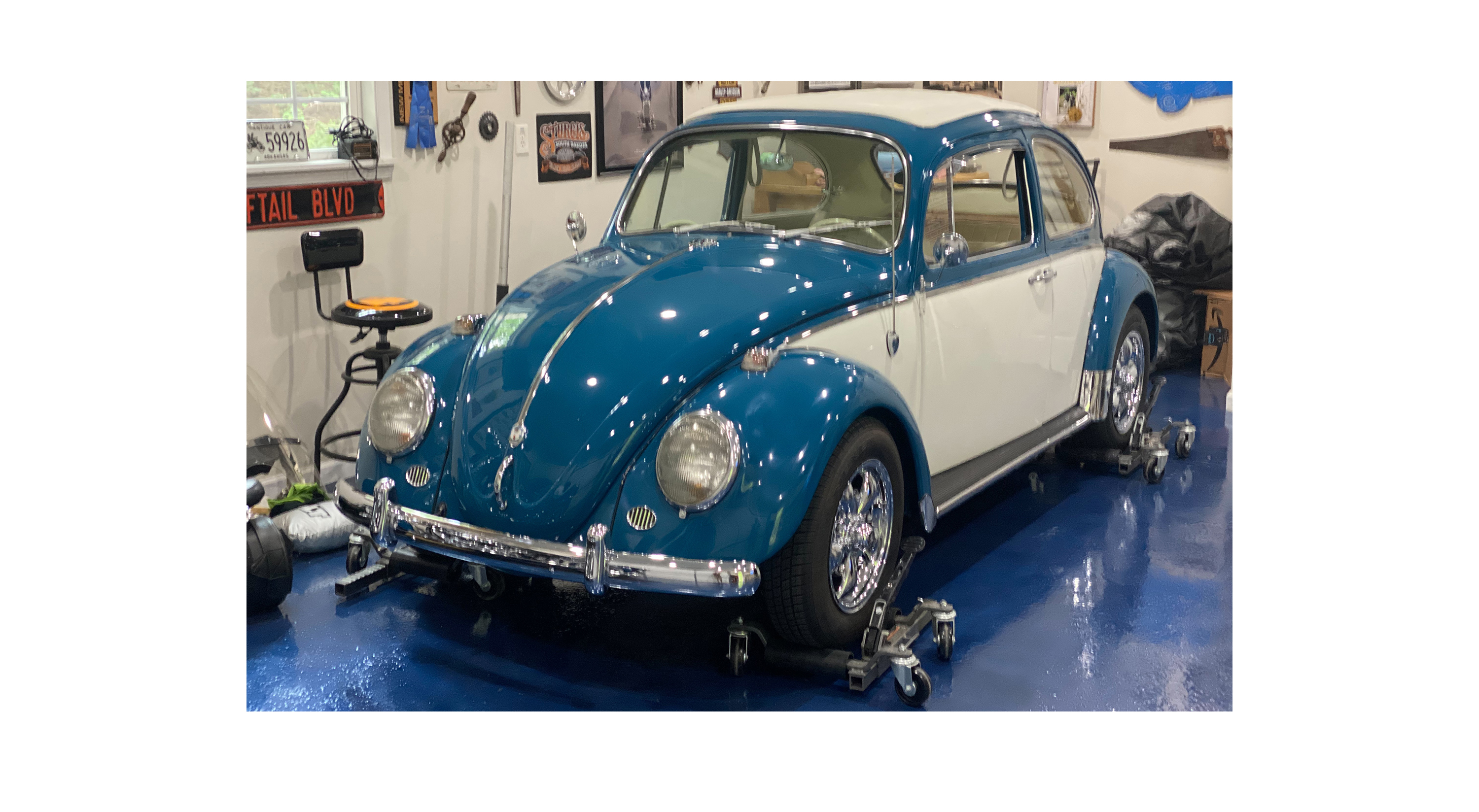 JBugs Spring VW Checklist
Get your VW back on the road!
The first day of spring is right around the corner. If you've been daydreaming all winter about getting your classic VW out on the road again, we have you covered. Check out our Spring VW Checklist and get ready to feel the wind in your hair!
If you followed the recommendations in our Winter VW Storage Guide, getting your car ready for the road again should be fairly simple. If you didn't, be sure to check it out for next winter.
Step 1: Check for Rust & Rodents
If your VW has been sitting outside in snow and rain this winter, it is especially important to check for rust spots before attempting to get your car back on the road. Look under your car and use a flashlight to visually inspect your floorpans. Pay close attention to the battery and pedal areas, which tend to be common rust spots in Beetles.


It is also important to inspect your car for signs of rodents. Grab a flashlight and look for common signs such as nesting materials, food remnants, and droppings. The most common areas to find signs of rodents are within the engine cavity, trunk, or in wheel wells.


If you see any signs of critters, it is important to check your car for damage. Rodents love to chew on wiring so you will need to inspect your wiring harness and cables for any damage.
Step 2: Check Your Fluids
Before you even start checking your fluids, get under your car with a flashlight and scan for any signs of leaks. Then, open the decklid and inspect hoses for any signs of cracking or loose fittings. Check all fluids including oil, transmission, brake, and wiper fluids, and all grease fittings such as wheel bearings and suspension components.
Step 3: Check Your Tires
Inspect your tires for any signs of wear, cracks, oxidation, or bulges. If all looks well, check your tire pressure and air the optimal psi for your tire.


Pro Tip: A trick to keeping your tires from flat-spotting while sitting is to remove your standard driving tires and replace them with spares/old tires, or perhaps even leaving the vehicle on Jack Stands. If the standard tires were swapped when the vehicle was put in to storage, now is the time to swap back to your driving tires.
Step 4: Check Your Battery
Hopefully you disconnected your battery cables when storing your car! Before reinstalling your battery, clean and inspect your battery terminals. Check your battery voltage. If it is below 12 volts, you will need to give it a charge.
Step 5: Check Your Gas Tank
When storing your VW, it is vital to use a fuel stabilizer so that your fuel does not go bad. If you did not use a fuel stabilizer, you need to inspect your gas tank. When gas goes bad it gets thick like a varnish and the smell changes (no longer smells like gas). If you suspect your gas has gone bad in your tank, do not start your car. It will only cause further damage. You may need to remove your gas tank for further inspection and repair.
Step 6: Prime Your Carburetor
If your VW has been sitting a while, it is best to prime your carburetor with a little bit of gas before attempting to start. This will protect your starter. Just pour a small amount of gas down the throat of the carburetor and replace the air cleaner. While starting the engine, press and hold your foot firmly on the gas pedal. This will push that gasoline through your carburetor. Do not pump the gas pedal. That will cause your engine to flood.


This is also a good time to inspect your air cleaner and replace, if needed.
Step 7: Warm It Up
Once the engine is running, let it warm up before you attempt the rev the engine. Take this time to walk around the car; look for smoke and fluid leaks. Check to make sure your headlights, tail lights, and brake lights are working. Check that your turn signals are functioning. If everything looks good, you are ready for a test drive!