Christina Scotti opened her very own VW Bus food truck after she saw a converted VW bus during a trip to Europe last fall. "When I saw this retro food truck, I immediately thought two things: the first was, 'Wow, that is so cool' and the second was, 'I have never seen anything like this in the states before.' The 70's throwback, coupled with its newfound purpose, was in line with my concept for Lola's Blue Farm, my Rhode Island truck that makes fried oysters and fried clams, all gluten-free. Both the food – and the truck – take something traditional and make it a little different." [1]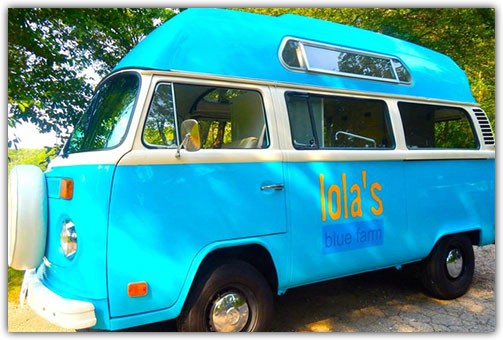 After tireless hours of searching through Craigslist to find the perfect VW, Scotti, along with Shane Medbury and Heather Bauccio, owners of Dub Box USA, converted a 1977 VW Kombi into a gluten-free kitchen on wheels. "The road to getting this bus has certainly had its bumps. Shipping from Oregon to the Northeast is not easy. Another challenge has been in its size."

Because the VW is smaller than standard food trucks, Scotti, Medbury and Bauccio had to find variations of appliances that would work with a smaller work environment. They opted for a ventless fryer in order to reduce the need for a ventilation system; however, it cost more than a traditional fryer and also required more power and therefore a larger generator.
"The bigger the generator is, the louder the noise. Nobody wants to order their chia-seed and gluten-free beer-battered oyster roll when they can't hear themselves speak. So that side of things has certainly made for some interesting conversations. But riding down the road, with smiling people constantly beeping and waving at the little VW, I can say undoubtedly the pros outweigh the cons."
If you're not into seafood on Thanksgiving, you could always try the delicious Argentinian food served up by Franco Paltrinieri in his 1985 Volkswagen Van.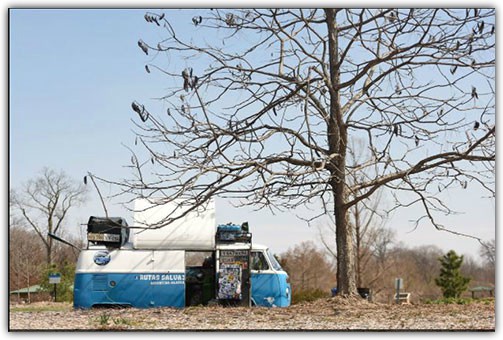 When Palitrinieri was 24 years old, he decided to leave the office life behind and started touring the Americas in his old VW van, which he named Clarita, after his sister. Needing to make money, he started selling lomitos, a grilled, liquor marinated, Argentinian steak sandwich from the side of his van until he saved up enough money to make the necessary modifications.

Palitrinieri and Clarita may take the cake for the coolest food truck because they don't just offer good food but a fun atmosphere also. "He created a space with hammocks, Christmas lights, Wi-Fi and jazz and retro music where kids could play and their parents hang out." [2]

Creating an atmosphere and menu that everyone can enjoy is imperative for food truck owners, especially because the amount of food trucks opening across the nation has grown immensely and doesn't show any signs of slowing.

Take for instance, the food truck industry in El Paso, TX where over 450 food trucks are in operation, including the Kaedama truck, a 1976 engineless Volkswagen Bus that gets trailered from parking lot to parking lot sharing delicious ramen with local Texans.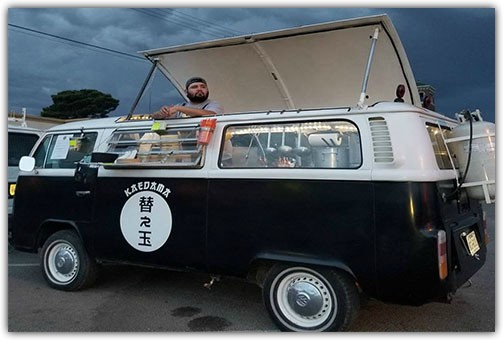 Andres Romero converted the 1976 VW bus with a tilt-open top and kitchenette in 2016 and just one year later became "the second best food truck in What's Up Weekly's Best of the Best." [3] Each night, over 40 customers wait in line for the Japanese-Mexican fusion ramen and sushi burritos. Romero and his business partner, Gabe Valencia plan to open a restaurant in the near future to accommodate more customers but until then, you can find them parked in the Kern Place area along with hundreds of other gourmet food trucks.

Meanwhile, over in St. Paul, Minnesota, in a 7,000 square foot warehouse, the Seventh Street Truckyard maintains three bars, three food trucks and a carnival style atmosphere. One of the food trucks is an eccentric VW Bus that serves 25 and 40-ounce beers as well as bottles of Boone's Farm and Mad Dog 20/20. COO of the Seventh Street Truckyard, Brian Ingram, says, "Everything is really tongue-in-cheek. We're really trying to make people feel like they're on vacation. If you're not into low-brow drinks, we'll have your Robert Mondavi and stuff like that. But there are so many places where you can get a craft beer for $10 or $15, so we just wanted to keep this down and dirty." [4]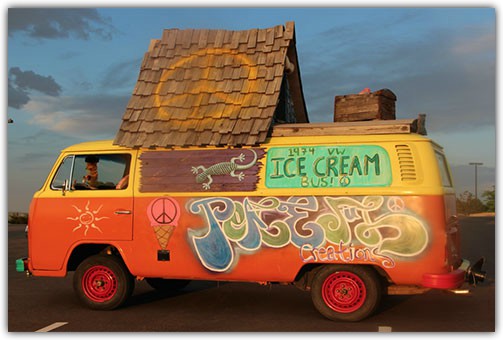 Nothing tops off a Thanksgiving dinner like the perfect dessert. Check out the Peaceful Creations ice cream truck, a 1974 VW Bus owned and operated by Kayla Voeltzel. Each ice cream is named after peaceful icons such as John Lennon, Gandhi, Malala and Nelson Mandela. Voeltzel says, "This bus was created to spread peace and happiness to everyone through enlightenment of worldly peaceful legends and tasty delicious ice cream sundaes from an authentic hippy VW bus!" [5]

With so many tasty options from all the VW food trucks, you won't have any problems finding a place for Thanksgiving. We're thankful you stopped by to check out the JBugs' blog and hope you have a great holiday!!
References
[1] Scotti, C. (2015). A Food Truck Isn't Just About the Food. It's the Truck, Too. [Entrepreneur Online Article]. Retrieved on November 8, 2017 from https://www.entrepreneur.com/article/248121#
[2] Orihuela, T. (2017). In the World of Volkswagen Food Trucks, None as Seasoned as Franco Paltrinieri's. [Columbia Missourian Online Article]. Retrieved on November 8, 2017 from https://www.columbiamissourian.com/news/local/in-the-world-of-volkswagen-food-trucks-none-as-seasoned/article_8faef00e-0a9d-11e7-88b7-d3c68c3c58a9.html
[3] Crowder, D. (2017). Kaedama Serves Ramen from VW Bus. [El Paso Inc. Online Article]. Retrieved on November 8, 2017 from http://www.elpasoinc.com/news/local_news/kaedama-serves-ramen-from-vw-bus/article_2f4b1a4c-c24b-11e7-b126-4be820ba2b18.html
[4] Rayno, A. (2017). St. Paul's New Indoor Food Truck Trailer Park Will Boast 20-Pound Cookies, 40-Ounce Beers. [Star Tribune Online Article]. Retrieved on November 8, 2017 from http://www.startribune.com/st-paul-s-new-indoor-food-truck-trailer-park-will-boast-20-pound-cookies-40-ounce-beers/426609971/
[5] Voetzel, K. (n.d.). About. [Peaceful Creations Biography]. Retrieved on November 8, 2017 from http://peacefulcreations5.wixsite.com/pcvw/about