VW 12 Volt Emergency Flasher Relay, Beetle, Ghia & Bus 1967-68

---
Shipping
Spend $100 more for Free Shipping.
**Continental U.S. only. Excludes oversized items.
---
Descrip

tion

Fits

Years

Shipping
Return

s

Q&A
Product Description
The 12 volt, 9 prong emergency and turn signal flasher relay is for use with the original, 2 prong emergency flasher switch used in 1965 through 1968. It can be used on 1965 and 1966 VW Beetles, Karmann Ghias and Type 2 Bus models that have been converted to 12 volts and will fit the 1967 and 1968 models that have the 2 prong emergency flasher switches.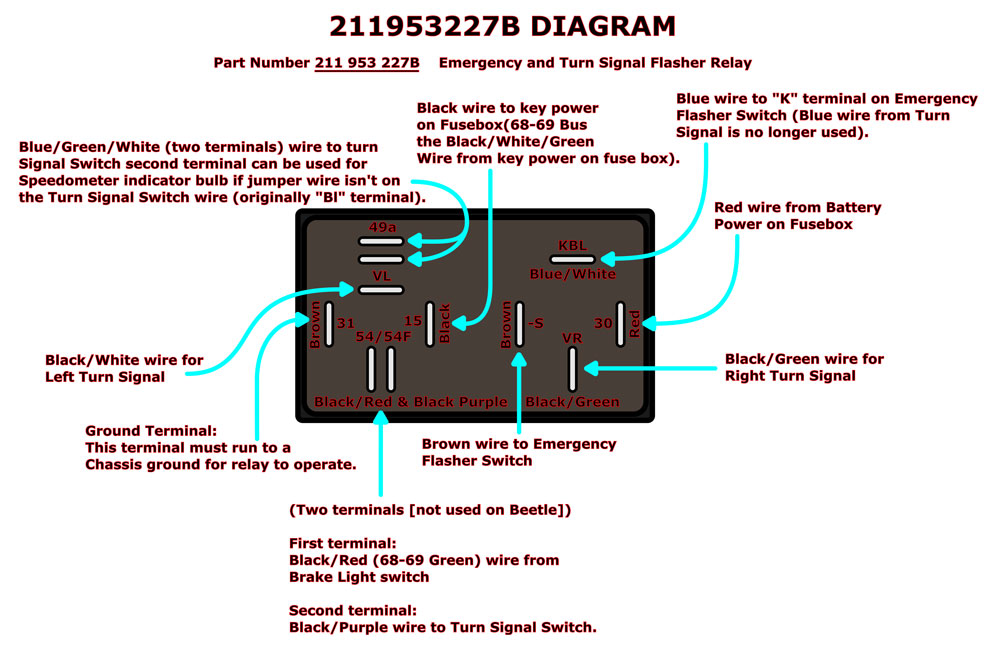 California Prop 65 Warning:
Warning:
Cancer and Reproductive Harm -
www.P65Warnings.ca.gov
Compatibility
Please Note: The information listed below is for stock, unmodified VW's manufactured for sale in the US. VW's are commonly modified and very often parts from another year VW may have been installed on your car. California Pacific JBugs is not responsible for any errors if your car has been modified in any way.
VW Beetle
1967 VW
Standard
Beetle Hardtop
1968 VW
Standard
Beetle Hardtop
---
Standard Beetle Sunroof
1967 VW
Standard
Beetle Metal Sunroof
1968 VW
Standard
Beetle Metal Sunroof
---
Standard Beetle Convertible
1967 VW
Standard
Beetle Convertible
1968 VW
Standard
Beetle Convertible
Karmann Ghia
Karmann Ghia Coupe
1967 VW Karmann Ghia Coupe
1968 VW Karmann Ghia Coupe
---
Karmann Ghia Convertible
1967 VW Karmann Ghia Convertible
1968 VW Karmann Ghia Convertible
VW Type 2 Bus/Transporter
Type 2 Bus
1967 VW Type 2 Bus
1968 VW Type 2 Bus
---
Type 2 Crew Cab
---
Type 2 Single Cab
1967 VW Type 2
Single Cab
1968 VW Type 2
Single Cab
Shipping
Returns
You might be interested in the following:
Recently Viewed Items: