VW Speakers & Mounts
We offer 2 methods of adding speakers to your car without cutting holes in your door panels.
Our Speaker Kick panels fit on the inside front kick panel area forward of the door frame. They are made of heavy-duty, black fiberglass to eliminate the annoying rattle you get with the cheap plastic ones and will handle up to 5 1/4 inch speakers. They provide the best in sound for your car and can be covered by your carpet or left uncovered.
The Speaker Kick Panels with fit Standard Bug Sedan and Convertibles, Super Beetle Sedans and Convertibles, Karmann Ghia Coupes and Convertibles, and Fastbacks, Squarebacks & Notchbacks.
For Bugs and Super Beetles only, we offer rear speaker trays that are designed to fit behind the rear seat and are available in a variety of materials and colors to match your seat upholstery or door panels.
The speaker trays are available with (2) 6x9 inch holes, (2) 5 1/4 inch holes. Also available with no holes to cover your bugs rear compartment. Speaker trays are available in Vinyl, Tweed and Velour to match your seat upholstery and door panels.
In addition to speaker items, we also offer a complete selection of vintage-looking car stereos that fit in the original opening of your dash, quality Rockford Fosgate amplifiers, and speakers to complete your system. You can view the complete selection of
our VW Radios and Stereos here
.
Rear Luggage Tray (Speaker Shelf)
We now offer a VW Rear Luggage tray/Speaker Shelf made by TMI. These interior products are made from heavy-duty compression board and your choice of fabric. Our Volkswagen Speaker Shelves can be used to add speakers to your vehicle or just to cover the empty space behind your sear.
These Rear Luggage Trays cover up to the base of the window. They have both 6 x 9" or 5.1/4" round speaker hole optional cut-outs that can be trimmed to fit the speaker of your choice.
Our VW Speaker Shelves are available in Vinyl, Velour and Tweed in a variety of colors made to fit the VW Bug and Super Beetle.
Front Speaker Kick Panels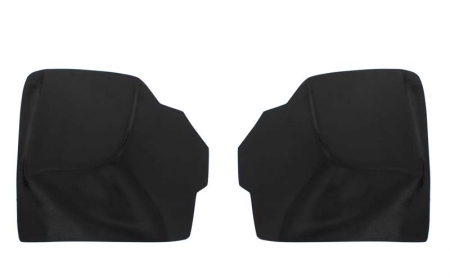 Our Front Speaker Kick Panels are made of heavy-duty fiberglass to resist vibration noise associated with cheap plastic panels. The thick fiberglass aids in securely mounting the speakers to the kick panel as well as fastening them to the front side kick panel area of the car.
These VW Speaker Kick Panels create a cavity to allow you to mount your speakers without having to cut into the metal area of the car.
Standard Speaker Kick Panels can accept 5 1/4 inch round speakers as well as many 6 inch speakers with shallow magnets. We also over
Max Front Speaker Kick Panels
which provide 4 - 5 Inches of speaker housing space behind kick panel and can accept 6.25" inch round speakers as well as many 6 inch speakers with shallow magnets.
These panels direct music slightly upward and inward in the car to provide optimum sound quality. The panels are finished in black so that they can be placed either under or on top of an existing carpet kit. They will not impede any foot movement.
We offer front speaker kick panels for the VW Bug, Super Beetle, Karmann Ghia, and Type 3.
VW Speaker Panel Installation Instructions
VW Speaker Panel Installation Instructions
Fits up to 7" diameter speakers (or 5 ½" with 1" tweeters, etc.) Depending on which car you have, there will be 4" to 5" of space behind the Speaker Panel.
Really Easy Instructions
You'll need:
40 grit sandpaper
Jigsaw with a fine blade
Electric drill with 1/8" bit
Phillips screwdriver (or drill with phillips screwdriver bit)
Template for your speaker (usually comes with your system)
Pieces of cardboard to practice on
8 Sheet metal screws.
1) Decide whether you will mount Speaker Panels over or under existing or new carpet, then;
2) Pre-fit the Speaker Panel up against your kick panel area above the heater channel. Some trimming may be required simply by using sandpaper. We recommend putting insulation, carpet or some type of pad behind the speaker, up against the metal kick panel area of your car. This makes your system "sound" better.
3) Once you are satisfied with the fitting of the speaker panel and its ready to install, you can now insert your speakers:
First, cut out the hole using the template, or practice on cardboard. If you drill the hole too big, then you'll have to buy another set and start over again. It is best to cut out the hole with the jigsaw, smaller than the template shows, them use sandpaper to make your speaker fit perfectly.
Mount your speakers, tweeter, etc. into the Speaker Panel.
4) Now, drill 4 holes, one at each comer using a drill with 1/8" bit. Hold the panel exactly where you previously pre-fit, and drill thru the panel and the metal kick panel of your car. Then screw the 4 screws into both, with a screwdriver (or drill with phillips screwdriver bit). Note: Bonding or attaching the speaker panel to your kick panel area without screws, will not allow access to your speaker, if you ever need to get to it. Carpet over if you choose.
Remember, if you have any questions, call us. We are happy to assist you!
SPEAKERS NOT INCLUDED.
Rear Speaker Trays
Our VW Rear Speaker trays permit the mounting of 2 speakers just below the rear window between the rear seat and rear window. They are made of thick wood and are padded, heat seamed and covered in the same material available or either seat upholstery or door panels.
The panels are available with no holes, two (2) 5 1/4" or two (2) 6" x 9" holes to accept most speakers. We offer a Rear Speaker Tray Installation Kit with all the parts necessary to mount your news parts into your air-cooled VW.
Volkswagen Rear Speaker Trays are available for the VW Bug and Super Beetle Sedan and Convertible.
For a complete menu of Interior, Exterior, and virtually every other part you may need to restore your Classic Volkswagen, select the model of your VW and then chose the year:
VW Bug Parts | VW Super Beetle Parts | VW Karmann Ghia Parts |

VW Bus Parts | VW Type 3 Parts | VW Thing Parts | VW Off-Road Parts