With VWs' Think Small campaign, the brand captivated its audience's attention by using brutally honest jargon with a hint of sarcasm. Most of the ads emphasized negative characteristics of each car but turned them into positive attributes by the end of the ads.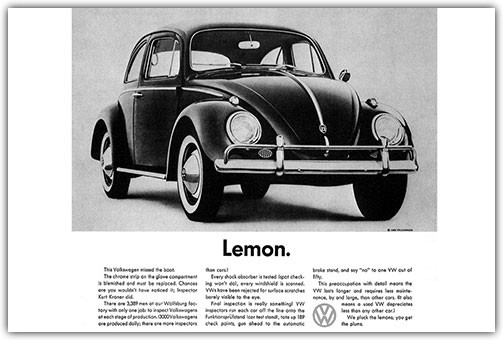 Take for example the Lemon ad, which featured a Beetle with the word Lemon underneath it. The ad describes how the particular Beetle was rejected by the inspector because of a blemish on the glove box and that one out of 50 Beetles do not pass because of simple imperfections. After detailing the problem with the Beetle, the ad goes on to say, "This preoccupation with detail means the VW lasts longer and requires less maintenance… We pluck the lemons; you get the plums."
Scroll down for more clever classic VW Beetle advertisements from the 1960's and don't forget to check out the slideshow featuring amusing ads for Buses, Fastbacks, Squarebacks and Karmann Ghias.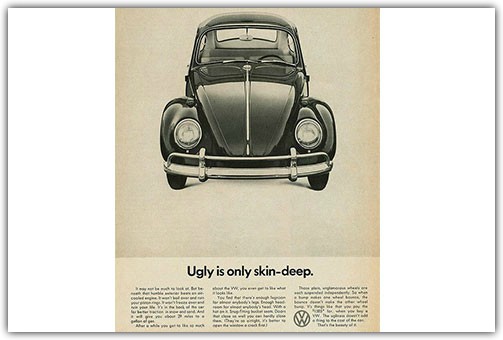 "It may not be much to look at. But beneath that humble exterior boasts an air-cooled engine. It won't boil over. It won't freeze over. And it will give you about 29 miles to a gallon of gas. After a while you get to like so much about the VW, you even get to like what it looks like. The ugliness doesn't add a thing to the cost of the car. That's the beauty of it."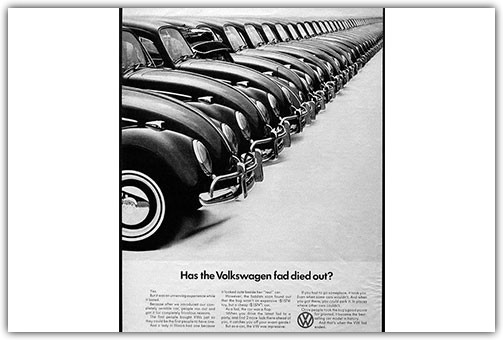 "Yes. But it was an unnerving experience while it lasted. Because after we introduced our completely sensible car, people ran out and got it for completely frivolous reasons. When you drive the latest fad to a party and find 2 more fads there ahead of you, it catches you off your avant-garde. But as a car the VW was impressive. If you had to go someplace, it took you. Even when some cars wouldn't. And when you got there, you could park it in places where others cars couldn't."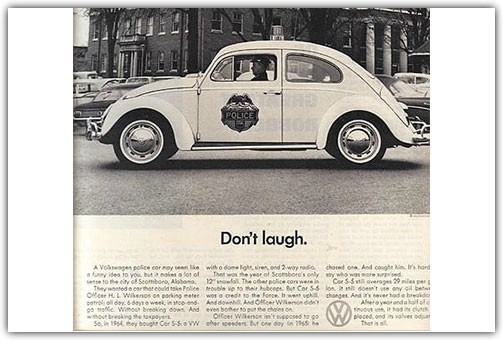 "A Volkswagen police car may seem like a funny idea to you, but it makes a lot of sense to the city of Scottsboro, Alabama. Officer H. Wilkerson wanted a car that could patrol parking meters all day, 6 days a week, in stop-and-go traffic. Without breaking down and without breaking the taxpayers. One day in 1965, he chased a speeder and caught him. It's hard to say who was more surprised."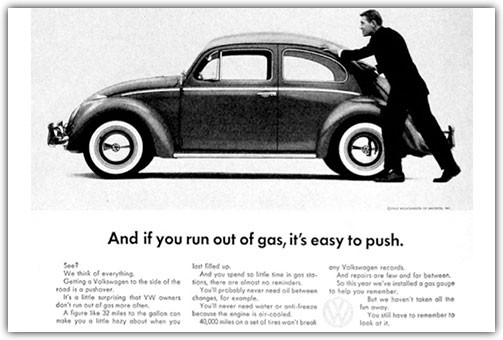 "See? We think of everything. Getting a Volkswagen to the side of the road is a pushover. So this year we've installed a gas gauge to help you remember. But we haven't taken all the fun away. You still have to remember to look at it."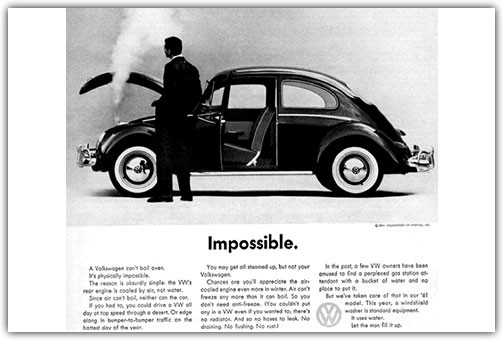 "A Volkswagen can't boil over. It's physically impossible. If you had to, you could drive a VW all day at top speed through a desert. Or edge along in bumper-to-bumper traffic on the hottest day of the year. You may get all steamed up, but not your Volkswagen."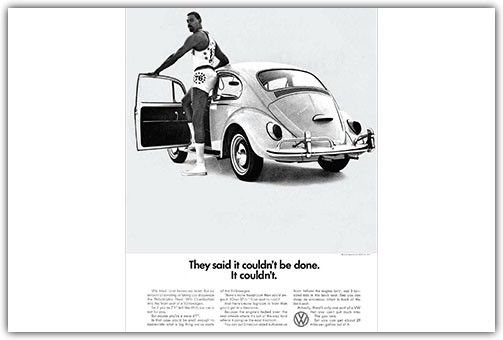 "We tried. Lord knows we tried. But no amount of pivoting or faking could squeeze the Philadelphia 76ers' Wilt Chamberlain into the front seat of a Volkswagen. So if you're 7'1" tall like Wilt, our car is not for you. But maybe you're a mere 6'7". In that case, you'd be small enough to appreciate what a big thing we've made of the Volkswagen."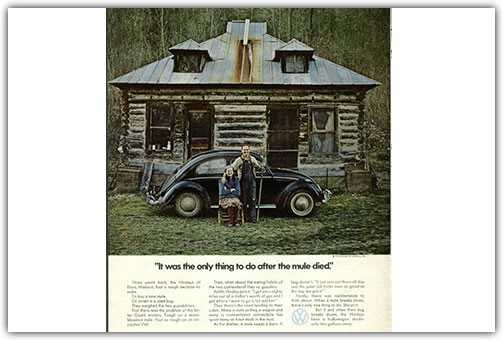 "The Hinsleys of Doro, Missouri had a tough decision to me. To buy a new mule or invest in a used bug. "I get where I want a lot quicker. It just sets out there all day and the paint job looks near as good as the day we got it." When a mule breaks down, there's only one thing to do. Shoot it. But if and when their bug breaks down, the Hinsleys have a Volkswagen dealer only two gallons away."
And don't forget about the slideshow for more classic VW ads for Buses, Fastbacks, Squarebacks and Karmann Ghias.
Cleverly disguised as a mild-mannered Volkswagen. It uses very little gas. It denies itself water and antifreeze. It humbles itself into parking places made for small sedans. But, let a crisis arise and you've got a station wagon that's able to hold up to 9 people!
Does your truck help you unload? Or do you still have to climb into the back and grope for the order? (And then climb out again without stepping on the keyboard of somebody's typewriter or tripping over a mimeograph?) A Volkswagen would give you a hand.
Our truck? Never ! (Well, hardly ever). It's funny; a Volkswagen is 3 feet shorter than a half-ton, but you can fit more stuff into it than any half-ton made. How about your truck? Does it carry everything a Volkswagen does? Or go as far on a gallon.
"It looks like a bus." "I wouldn't be caught dead in it." Do these sound familiar? Your wife is not alone. It is hard to convince some women what sense the VW Station Wagon makes. She might like the easy way it loads. She can comfortably pack in eight or more scouts. Even if the traffic is bumper to bumper on hot days, she will not have to worry about the radiator boiling over. If these facts don't convince her, tell her it's only $2655 and you aren't made of money.
We could use machines to look for mistakes. But machines don't care if they find them or not. Our inspectors reject anything they don't like, and we cheerfully accept their rejection.
Nobody made a mistake. That shapely car is the new Volkswagen Fastback. It's in this VW ad because it's a VW. If you've steered clear of a Volkswagen because it wasn't big enough or good-looking enough or expensive enough, you may be forced into thinking it all over again. Sorry.
As you can see, this wagon is loaded with reasons for owning a Volkswagen Station Wagon. There's too much stuff and not enough wagon. If you owned a box-shaped VW, you could take all that stuff off the roof and put it inside where it belongs. So every time they make a conventional station wagon, they also make a swell little ad for the Volkswagen Station Wagon.
Dear Reverend, Father or Rabbi, We understand why you love to raffle off Cadillacs, T-Birds and Continentals. They draw the crowds. But consider the poor soul who wins. He has to pay about $1000 in income tax. At least $425 a year for gas. And who knows how much for oil and antifreeze. Now think how charitable it would be to raffle off a Volkswagen Fastback Sedan. It needs only about $420 for income tax. About $150 a year for gas. No antifreeze. And it takes pints of oil, not quarts. So if you're thinking of raffling off a fancy car, lift up your eyes and behold the Volkswagen Fastback Sedan.
A beautiful air-cooled motor that you don't have to worry about all winter. Glamorous gas mileage. Sensuous synchromesh transmission. Exotic independent suspension. There's a bit more room in the backseat of the Fastback than there is in the bug. But that's still nothing compared to the cars that have most of their beauty where you can see it.
Did the Italian sports jacket fool you? This is our Karmann Ghia, a turnabout for 2. It cruises over 70. And takes curves with any sports car made. But it's not a sport car. It's a Volkswagen with a special body.
Like it or not, that's a Volkswagen. With all the beauty of the funny-looking one. We not only put in a lot of what makes the bug so nice. We also put in a lot of what makes the bug so nice for so long. The Volkswagen Fastback is made the same way Volkswagens were made ten years ago. Since most of them are still around, that couldn't be too bad. So first be sure you like the Fastback. Then be sure to pick a color you can live with a long time.
Only the VW Squareback (and its sister car, the Fastback) has a fuel injection system and a thinking computers. Volkswagens always made sense. Now they have sense.
❮
❯