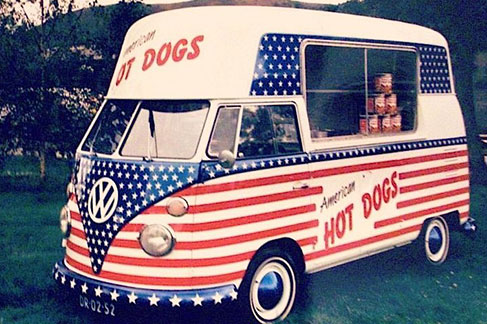 Grilling has been a staple in society since the discovery of fire over 500,000 years ago. Not only is it the best way to cook the perfect steak but it is a great way to get your family, friends and neighbors together for some fun in the sun.
Before World War II, grilling took place around campfires with limited resources and minimal preparation. As years passed and suburban neighborhoods expanded across the United States, grilling became a backyard event and soon spread to the streets during major holidays. Block parties became a nationwide celebration where neighborhoods came together to provide relief during war stricken times.
To this day, neighborhoods rope off streets to celebrate joyous occasions with BBQ, music and all around good times.
Fourth of July is the perfect excuse to wrangle your loved ones together for a backyard BBQ or even a block party!! JBugs has an entire line of VW themed grilling and kitchen accessories that are sure to spice up any celebration. We have everything from a three-piece BBQ set, all-purpose apron, salt and pepper shakers and even napkins and ice trays.
Shop here for more fun VW themed merchandise.