JBugs offers a complete selection of the nation's best exterior VW rubber seals, window channels and weather-stripping for classic Bugs/Super Beetles, Buses/Type 2s, Karmann Ghias, Things and Type 3s.

All of our seals can be purchased individually or in complete kits to work with any type of budget. JBugs aims to provide as many options as possible to guarantee each customer gets exactly what they need at a price they can afford.
On some seals, such as door to body seals, you will find that JBugs offers German or Brazilian seals. We highly recommend installing the German seals because they are backed by a lifetime warranty and replicate what came on the original, factory VWs. The Brazilian seals are not warrantied and recommended primarily for those on a budget or that need a seal for a short period of time before restoration or paint.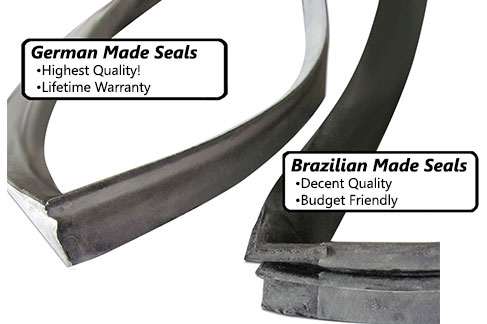 German & Brazilian Door Seals.
---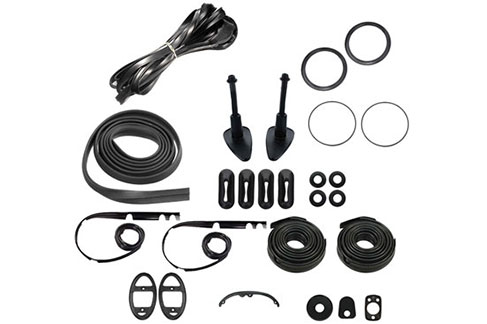 Basic Body Rubber Kit
The rubber body seals we offer include turn signal, license light, bumper bracket, decklid, hood, fender and handle seals. These seals may not have much to do with air, outside noise or water but they guarantee a more secure hold of certain items to the body of your classic VW and prevent damage to the body and paint below.
---
The seals that do help prevent outside weather or noise from penetrating your classic VW encompass weather-stripping, window channels and door rubber. Those combined with convertible top, ragtop and sunroof components can ensure your VW is sealed from the elements.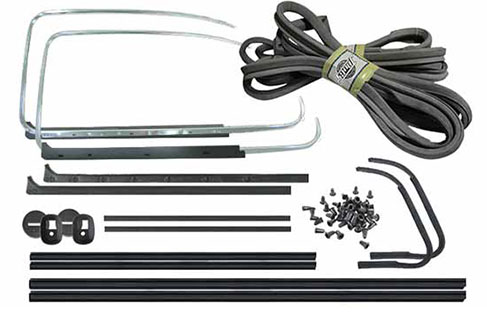 Door Rubber Seal & Window Felt Kit
Weather-stripping is used primarily to prevent water from leaking into the cab, trunk or engine compartment of your classic VW. It is also helpful to keep interior air inside the vehicle which significantly improves gas mileage.
Window channels not only reduce air from coming in and out of the cab, but they also keep the windows safe and secure while being rolled up and down. These seals keep the windows in place which reduces noise from driving along the beaten path. Same goes for door rubber; it seals the gaps between the doors and body of your VW to help keep them in place which minimizes the amount it can move, as well as the noise it can make during transit.
For those with convertibles, ragtops and sunroofs, checking to make sure the seals and rubber are up to date is imperative. The wear and tear caused by opening, closing or removing the tops allows for the rubber to deteriorate which overtime becomes useless.
While convertible tops do not include seals, we can help you replace your missing or worn top with parts that include convertible tops, headliners, padding, boots, cables, bows and hinges. These parts are sold individually but when combined into a Convertible Top Kit will save over $40 on your purchase.
Ragtops also do not include seals; however, JBugs offers repair kits in order to help minimize the cost of your restoration. Instead of buying a brand new ragtop, you can fix the one you already have. If you need help with the installation, give us a call at 1-800-231-1784 and one of our friendly customer care representatives will help walk you through it.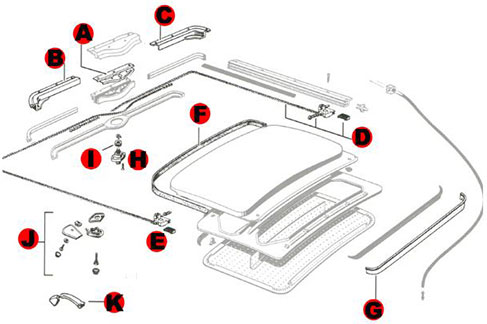 Unlike convertible tops and ragtops, your sunroof does come with seals and you can find replacements for them right here. Keep in mind the seals aren't intended to keep water out of the roof, that's why there are drains in the sunroof mechanism so make sure those are in place whenever you have a headliner pulled out of a sunroof equipped VW.
For assistance with the removal or installation of rubber parts, we offer an Exterior Restoration DVD free of charge when you purchase over $100 of rubber parts. If you aren't looking to spend that much, don't worry because we also share installation tips, restoration advice and product reviews on our YouTube channel which allows all of our customers, fans and VW enthusiasts alike to complete professional maintenance from the comfort of their own home.
Shop with JBugs today to protect your classic VW and yourself from the outside elements.