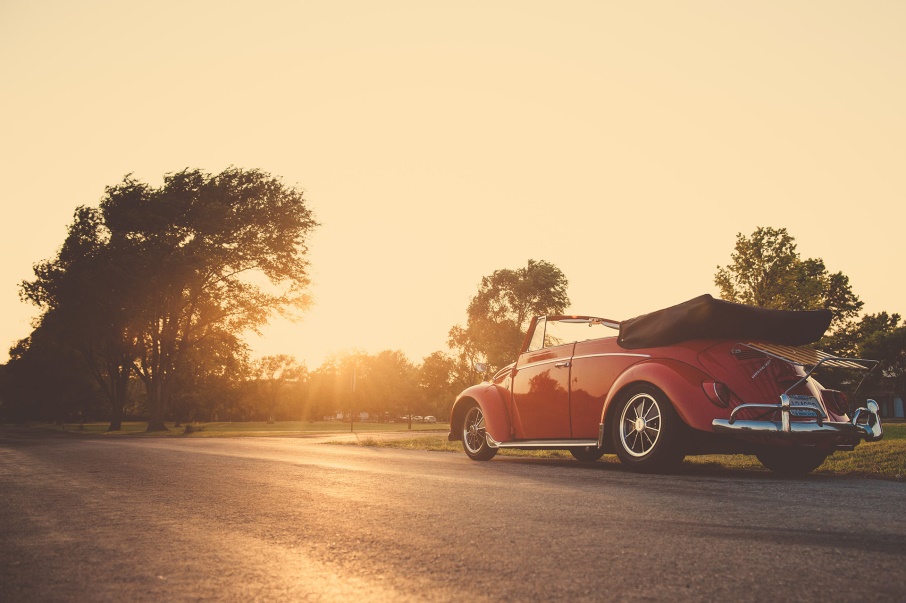 VW Events to Visit While on a Cross Country Road Trip in June
With summer right around the corner, we thought it would be the perfect time to plan a cross-country road trip. JBugs is here to help you find all the fun activities across the nation specifically for VW enthusiasts and classic car fans. From the June Bug Classic VW Car Show in Mohnton, PA to the RVA Volkswagen d'Elegance in Sunny California, we have you covered.
East to West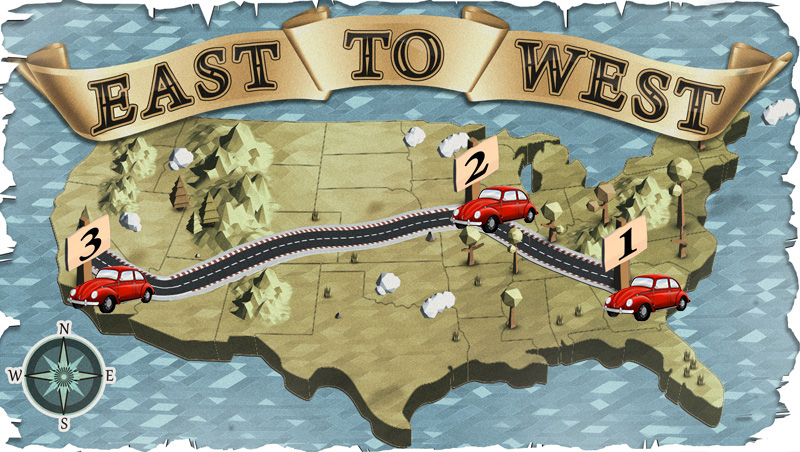 1: Our first stop is the last state to become one of the 13 colonies. Georgia, home to the Stonehenge of America, will host this year's Y U Buggin car show in Hampton on June 3. The fun will actually begin the Friday night before with a VW cruise-in from The Griffin Dog House to the show venue. All classic VW bugs are invited to join the cruise and definitely encouraged to show off their stuff the next day at the event. This is a fun family event for all VW bug enthusiasts, even if you do not have a bug or never even owned one, you are more than welcome to enjoy the show.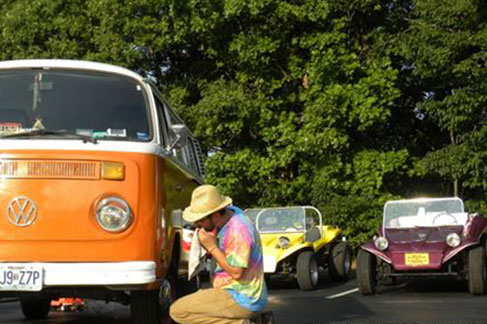 2: Next stop, Springfield, MO where it is still undetermined if it is THE Springfield from The Simpsons. No one really knows and honestly, we do not really care. We are only interested in one thing that Springfield is known for which is the JuneBug Jamboree, an all VW car show for friends and family of VW enthusiasts. On June 4, there will be vendors, entertainment and trophies, lots of trophies. VW owners can compete for Best of Show, engine, paint, interior, display and cosmetically challenged trophies. With so many trophies, everyone might leave a winner.
3: Speaking of leaving, we need to hit the road and get to our next destination all the way in Chino, CA. Do not worry, this show is on June 11 which gives you plenty of time to travel over 1,500 miles. You will not regret the long haul once you see the state's biggest VW show and swap meet. The Prado Show and Shine is held at Prado Regional Park where hundreds of classic VW's line the beautiful shoreline of Prado's fishing lake. Not to mention the largest swap meet where you are sure to find all the classic VW parts you have needed for your restoration. One of the best parts about this show and the next show on our stop is that the JBugs team will be there to give away cool VW gear. We highly recommend stopping by to say hi, we would love to share your road trip story with the rest of the JBugs family and followers.
It is going to be hard to peel you away from the gorgeous scenery of Prado Regional Park but trust us; you are going to love the next and last stop on our cross-country road trip. Located blocks from the beach, you can enjoy one of the best VW car shows and a day at the beach all in one day. The Classic, a world famous VW only show and swap meet in Costa Mesa, CA, will be held on June 17 at the Orange County Fairgrounds. This is a must-see show. Not only will you get the chance to see some of the most beautiful and perfectly restored VW's, but you can meet the JBugs team, get some VW swag and enjoy the company of fellow VW enthusiasts.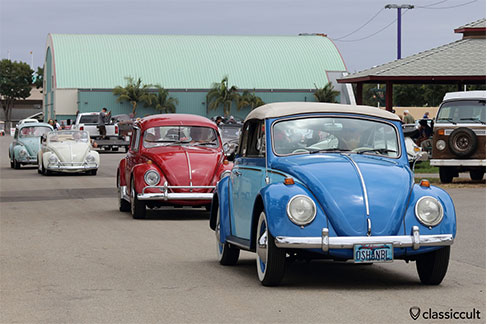 If you drove your VW on this road trip and are up for another stop before heading back to reality, the Oil Drippers VW Club host a meet up every last Friday of the month. On June 30, they invite VW clubs and solo drivers to Wendy's in Norwalk from 7 P.M. to whenever the party ends.

Sadly, every party, like this road trip, must come to an end. But be sure to check back next month for July's events.

To see a list of all the June VW events, click here. Download June VW Events
West to East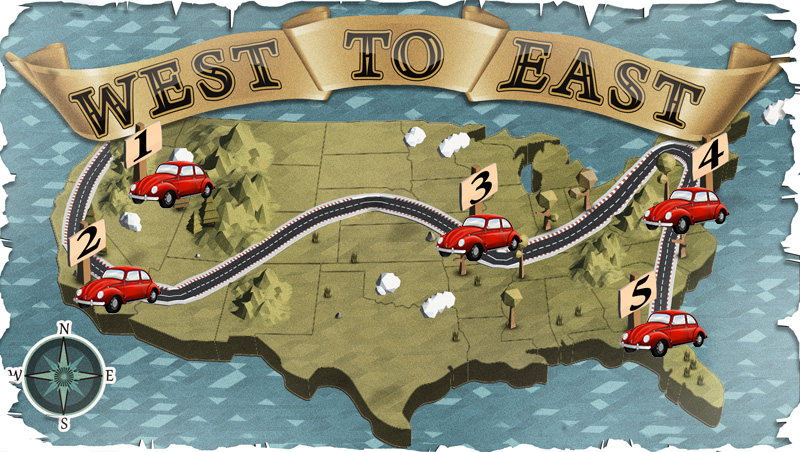 1: Let's begin our journey on the northwest coast in the Beaver State where the most photographed lighthouse resides and there are more ghost towns than they know what to do with. In Woodburn, OR, however, it is far from a ghost town when the 32nd Annual Northwest Bug Run comes to town. This year, it will be on June 3 and the Rose City Volksters are more than happy to host a show and shine, as well as the always exciting drag race at the Woodburn dragstrip. Each and every year, the Northwest Bug Run does not disappoint. Hundreds of VW enthusiasts flock to the Woodburn drag strip for a day of fun with blow-up motor and burn-out contests and even a Friday night cruise to set the tone.

2: Head down the coast to central California where classic VW's and classy people collide at the Wine, Waves and Beyond Vintage VW Display. Not only will there be a surf contest, but there will also be a free concert on the beach for an 805 Classic Beach Party. This event, held on June 4 in Pismo Beach, is known as "One of the most unique annual events held on the central coast".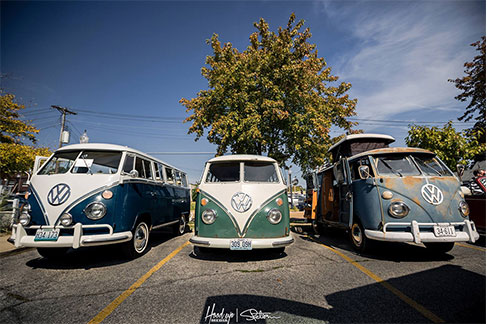 3: Now buckle up because we are going on a wild ride to the mid-west. We are on our way to Hannibal, MO. Not named for the seriously creepy character in Silence of the Lambs, Hannibal is home to the first and only church to hold services at a drive-in theater. According to Hannibal: The Otis Howell Collection, worshipers sat in their cars and listened through the drive-in speakers. No; we are not directing you to the nearest church services for your trip (although after our next stop we all might need to go to confession), but we are inviting you to the Brew Skies Music Festival on June 10, where visitors can enjoy home brewed beer, live music and tons of classic air and water cooled VW's. And with the historical Mark Twain Caves just steps from the show, there is fun for all ages.
4: Our next stop might be one of the coolest VW events this summer, especially if you are a VW owner and using it as your mode of transportation on this road trip. Bright and early on June 21 in Brookline, MA, meet up with hundreds of VW owners to cruise from Stan's Classic Service to the Larz Anderson Auto Museum, home to the oldest car collection in America. Not only will the VW's be taking over the German Car Day hosted by the museum, but attendees will be able to get a glimpse of some of the most coveted cars on this planet.
5: We have finally come to the last stop on our trip in Jacksonville, FL, home to the Jacksonville Jaguars and birthplace of legendary rock group Lynyrd Skynyrd. Sponsored by Hilltop Motors, the Summer Volksfest is fun for the entire family to enjoy all model air and water cooled VW's, a kid's area with face painting and a live band for entertainment. Held on June 24 at the Jacksonville fairgrounds, this event is a great way to end your road trip.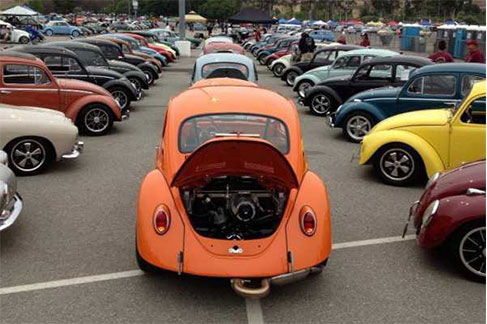 Yes, we are sad to see the month fly by but we enjoyed every minute of the trip and hope to see you back next month for VW events across the country. To see a full list of June's VW events, click here. ' Download June VW Events