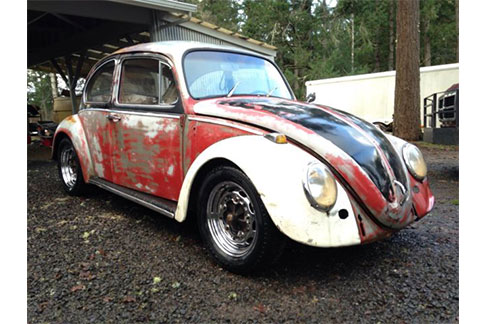 With graduation for the class of 2017 mere months away, there is little time to figure out the perfect gift for your graduate. Often times, parents have trouble finding something that speaks to an emerging adult with little to no idea about the world they are about to enter. Some parents opt for an entirely new wardrobe for college or that laptop they have been eyeing for months while other parents choose more practical gifts such as a transit card or cash. But here at JBugs, we think the ultimate gift, which can create a fun experience for both you and your child, would be a classic VW.
Classic VW's, if unrestored, typically cost anywhere from $500 to $2,000 and once they are fully restored or restored to the best of your ability, can cost $10,000 or more. We believe it is best to purchase an unrestored VW so you and your graduate can spend time during the summer before they head off to college bonding, gaining valuable mechanical knowledge and learning the value of hard work. While a complete restoration may seem a bit expensive and excessive for a recent graduate, everything they learn to do on their own will help save you money in the long run.
The first thing we suggest before purchasing a classic VW is to purchase the John Muir Idiot Book, a VW manual that covers everything in simple form. This book is an entertaining guide for the everyday man with little to no mechanical skills and is something you can pass on to your graduate so they know how to take care of their VW while away at college.
The next step is finding the right VW for your graduate. The best places to find classic VW's are on Craigslist, local classifieds (which are probably overtaken by Craigslist), classic car shows and swap meets and The Samba, a website dedicated to everything VW. If you are looking for a beetle, we suggest looking for anything from 1964-1974; they are all similar mechanically and easier to work on than 1975 and newer models due to the change from a carburetor to fuel injection.
When you find something in your price range and are ready to take a look at it, you should bring along a friend who knows a little something about VW's just so they can give you an honest second opinion. Sometimes finding a car in your price range gets a little exciting and your emotions can cloud your judgement. We also suggest not wearing anything nice, you should be underneath the car making sure everything looks as good as it can get for what you will be paying.
This video, which can be found on our YouTube channel along with dozens of other great informational videos, shows you a step-by-step guide of what to look for when purchasing a VW. Our resident VW guru, Sam Mebane, provides valuable information to check out before making your purchase.
Once you have looked over the VW, if it runs, you should definitely take it on a test drive. Make sure it stops and shifts well, and does not turn off when you apply the brakes. These are not issues that cannot be solved, but it will cause more work during your restoration.
If you like what you have seen and plan to make your purchase, JBugs will help you the rest of the way with your restoration. We offer virtually every interior accessory imaginable for all VW models and can guide you to the right vendors for other larger components such as engines, transmissions, etc.
Restoring a classic VW can be a fun experience for you and your recent graduate. There is no gift greater than time spent with family, unless it is a newly restored classic VW. Okay, maybe there is something greater and it just so happens to be one of the greatest graduation gifts ever!
Visit JBugs today for more VW information and feel free to call our customer care representatives if you have any questions. We are here to help with all your restoration needs!