How can I save time and money with California Pacific JBugs?
We pride ourselves in offering the lowest prices and best quality products in the industry. Rather than inflating prices and offering gimmicky sales, we opt to keep our everyday prices as low as possible. In addition to carrying some of the lowest prices in the industry, we also group, combine and create Kits of all our biggest selling items. Once we have those items kitted together, we knock 5-10% off as opposed to purchasing every item individually. Whenever you purchase an Interior Kit, Rubber Kit, or Complete Car Rubber Kit you get all the items you require and an additional savings.
Our Everyday Special will feature savings** as follows: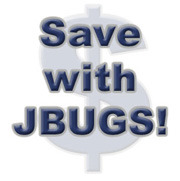 5% off on any order of $600 or more in parts.
10% off on any order of $1,200 or more in parts.
15% off on any order of $1,800 or more in parts.
Note: ** Discounts are not applicable to gift certificates, wheels, tires, Pro-Series Seats, Crow Race Harnesses, Off-Road Shocks, excluded items, or already discounted JBugs close-outs.



All discounts are applied automatically at checkout for internet orders. Please mention these specials when ordering by fax, mail, walk-in or phone orders.
California Pacific/JBugs
For over 26 years we have been serving the Volkswagen industry with the finest air-cooled VW parts and top of the line customer service and technical support. We strive to take the headache out of buying parts to restore your classic VW.

Our inventory of over 10,000 parts can attest to the fact that we want to be your one-stop-shop for vintage VW parts. Whether you are looking to restore your VW to stock or are seeking options for customization, we have it all. We feature the largest selection of TMI interior products in the industry and have the most knowledgeable staff to help you with your interior restoration.

We work with top of the line manufacturers that we know and trust to provide reliable, long lasting parts. Our staff works on their own VW restoration projects in order to learn more about the cars and pass that knowledge and understanding of the process along to our customers.

We take pride in being the leading provider of classic VW parts for your Beetle, Super Beetle, Karmann Ghia, Bus, Type 3, Thing and Off-Road vehicles.

The things that separate us from the rest of the companies in the VW Restoration Parts business are as follows:

1. The quality of our parts
2. Our knowledgeable and friendly staff
3. Our commitment to helping you restore your car




Contact Us.


More about JBugs.

Featured Categories





Customer Reviews